Though psychedelics have been used for thousands of years, modern technology is beginning to teach us more – much more – about their effects on our minds and bodies. We caught up with Apollo Neuro co-founder and neuroscientist and board-certified psychiatrist, Dr. David Rabin, to learn more about how people are using wearables to gather new insights about their trips. 

Alexa: For anyone who isn't already aware, can you give us a high-level overview of what wearable tech is for, who might want to use it, and why?

David: I think of wearable technology as a powerful tool in our health toolkits to help combat the stresses of modern life, just like mindful practices like meditation, breathwork, and exercise. The wearable technology that we've developed at Apollo is safe for children and adults alike, so it's really for anyone who feels they could use a tool to help them feel more safe, in control, and calm and experience better sleep, less stress, and a brighter mood. When we feel more secure, we're able to fall asleep faster and stay asleep longer, focus more effectively, socialize more freely, and sustain energy throughout your daily tasks

Alexa: Can you explain the synergy between technology and psychedelic treatments in achieving better mental health outcomes?

David: Psychedelic-assisted therapy can be scary or intense for people, especially during their first time. Wearables can serve as a somatic anchor for both the patient and the therapist so they can stay in tune with their bodies. It helps the therapist to remain impartial on any difficulties or challenges that the patient may be experiencing, and it helps the patient to have a smoother journey.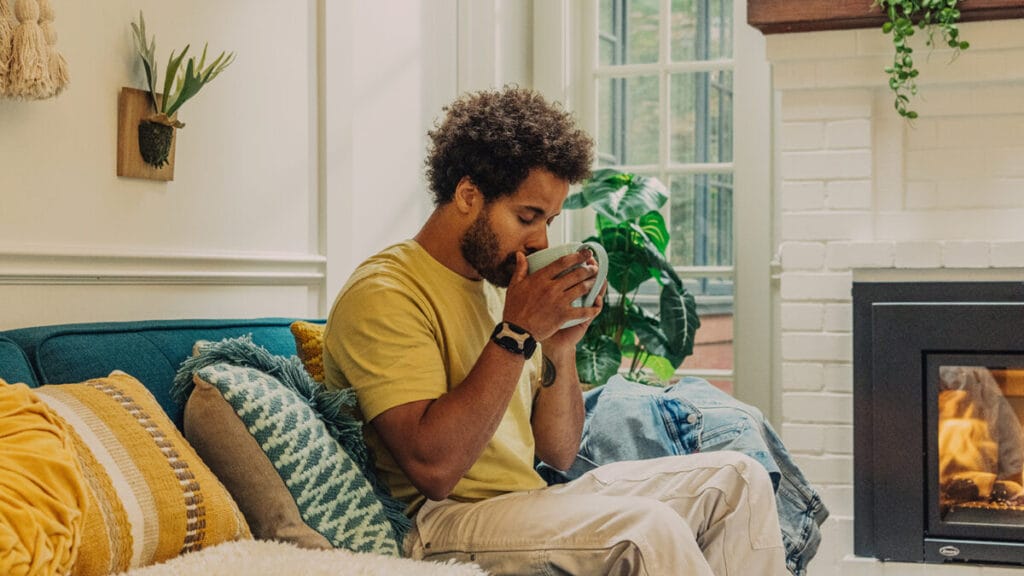 To date, we have never had access to modern tools to help us solve these challenges that exist within and around the psychedelic experience. Today, the Apollo wearable is the only patented technology to reduce uncomfortable experiences associated with medicine-assisted therapy. So far the results from Apollo plus psychedelic-assisted therapy in the real world have been tremendous, including reducing anxiety in advance of medicine administration for easier drop in, reduction in 'bad' or uncomfortable trips, and improved ease of integration afterward. Apollo represents the very first example of how wearable technology can empower us to make healing with psychedelic and non-psychedelic techniques easier and more accessible for all.

Alexa: Can you share some examples of scientific research or studies that support the effectiveness of wearable tech and its combination with psychedelic therapies?

David: Currently, the Apollo Neuroscience Clinical Research Team is running an IRB-approved clinical trial with the support of the Multidisciplinary Association for Psychedelic Studies (MAPS), a nonprofit sponsoring the most advanced clinical trials of a psychedelic-assisted therapy. The purpose of this study is to understand how the Apollo wearable touch therapy impacts long-term outcomes and improves integration following MDMA-assisted therapy in people with post-traumatic stress disorder (PTSD).

Two large clinical trials evaluating the Apollo wearable in PTSD patients are currently underway and recruiting participants. The first is taking place at the Rocky Mountain VA in Denver, CO and the second, a nationwide trial, is evaluating the Apollo wearable to sustain remission from PTSD following MDMA-assisted therapy, described above. Anyone who has participated in a MAPS trial of MDMA-assisted therapy is eligible to join the MDMA-Apollo study and receive an Apollo wearable for the study.

We've seen tremendous results with the Apollo wearable in thousands of traumatized individuals and those who have participated in psychedelic-assisted therapy thus far. Some of the most promising responses were in people receiving ketamine-assisted therapy, particularly those new to psychedelic medicines or who have a lot of anxiety in anticipation of new experiences. We care about the outcomes, and anything we can do to help people stay in remission or feel better for longer periods of time is a big win for our field. We are very much looking forward to seeing how the Apollo wearable will contribute to the integration period following MDMA-assisted therapy.

Alexa: Have there been any clinical trials or user feedback demonstrating the positive impact on mental health?

David: The Apollo Neuro technology has been studied in over 1,700 research subjects in seven complete and 14 ongoing real-world and university clinical trials demonstrating very promising improvements in everything from sleep, pain, and fatigue to mood, anxiety, and focus. Ongoing studies of the Apollo technology include studies of PTSD, ADHD, and TBI, metastatic breast cancer pain, and severe autoimmune disorders.

Alexa: There are tons of wearable devices out there these days, could you share an overview about Apollo and how it's different?? What specific features or technologies does Apollo employ to support mental health?

David: The Apollo wearable is different from other wearables as most wearables are trackers. They tell you what is going on with your health but leave it up to you to make decisions to improve it. The Apollo, on the other hand, actively improves your health through soothing vibrations that shift you out of "fight or flight" and into "rest and digest," or a parasympathetic state. You can actively choose how you want to feel on the Apollo Neuro app on your phone – Focus, Social, or Unwind, for example – and the wearable plays vibrations that help to shift you into that state, much like the way certain songs pump you up or chill you out.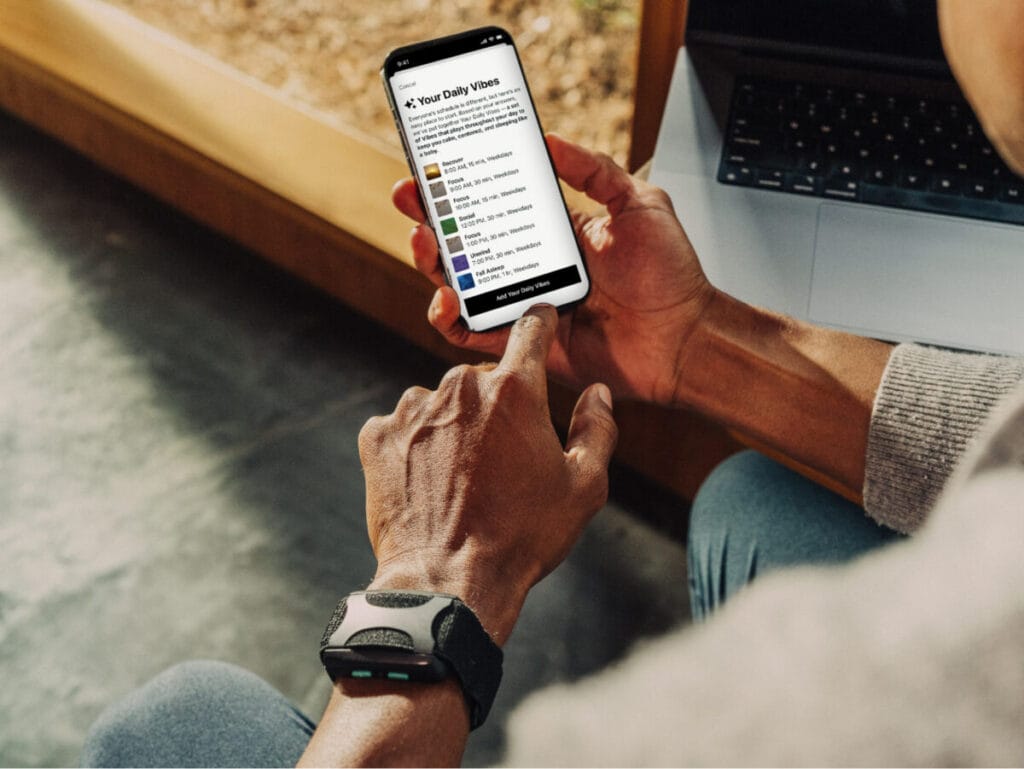 Alexa: What mental health benefits can users expect from your wearable technology on its own, and how does your wearable tech complement or enhance the effects of psychedelic therapies?

David: On average, users experience 40% less stress and feelings of anxiety, an 11% increase in heart rate variability (HRV), up to 25% more focus and concentration, and up to 19% more time in deep sleep. In an ongoing real-world sleep study, users get up to 30 more minutes of sleep a night. Less stress and feelings of anxiety is especially helpful in a psychedelic-assisted therapy setting, as well as an increase in HRV, as that is the biggest indicator of how well your body responds to stress.

Alexa: What does the future of this type of therapy look like? Do you collaborate with mental health professionals, therapists, or healthcare providers to integrate your technology into treatment plans?

David: The future of Apollo being used in this type of therapy is that it will be used by clinicians and patients in the office or treatment facility where medicine is administered, beginning in the waiting room or before arrival, to improve short term experiences. It will then be used, as it is today, by patients/clients after their experiences at home to improve clients engagement in treatment and enhance their outcomes from integration practices, which are the most important piece of treatment and often ignored.

Alexa: If a healthcare provider is interested in incorporating wearable tech into their practices, what is the process for going about that?

David: We work with hundreds of healthcare practitioners ranging from holistic health clinicians, centers for ADHD and autism, psychedelic assisted therapy clinics, trauma therapy practitioners, Chiropractors and more. Our goal is always to work hand in hand with them to tailor a program that meets the needs for their clinic and their patients. To learn more about partnership options with Apollo, Practitioners and Clinicians can reach our partnership team directly by filling out this form on our website.

Alexa: How do you see the intersection of technology and mental health evolving in the coming years? Are there plans for further advancements or updates to your technology to enhance its mental health benefits?

David: The future of mental health involves the convergence of technology, psychedelic techniques, and our current practices. As Apollo learns from people over time, it will personalize vibes for each individual user based on their needs at any given time today. This is already happening with Smartvibes for sleep, which is the first wearable technology AI collaboration to give us 30-60 minutes more sleep each night that is concentrated in deep and REM sleep, just by understanding our sleep signature and acting on it predictively to prevent unwanted middle-of-the-night wakeups. This will only get better over time!
Interested in trying the Apollo Neuro, or gifting it to a friend or loved one? Purchase through this link and save $50.