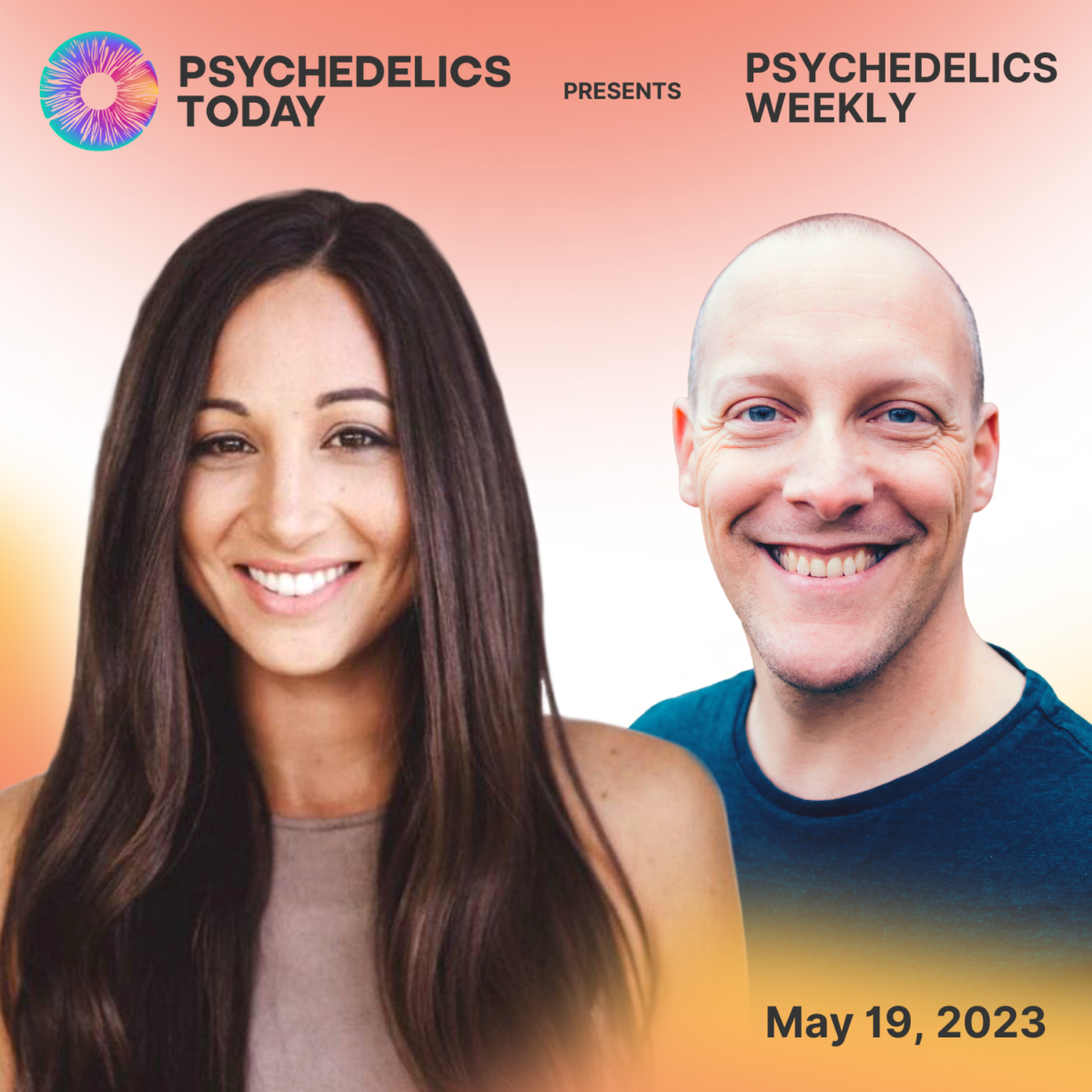 In this episode of Psychedelics Weekly, Joe and Kyle are both on the road, so David and Alexa take the helm.
They cover news stories about:
-a man in Colorado facing a Class 3 drug felony for giving people psilocybin mushrooms in exchange for monetary donations – pointing out the bold (or stupid?) stances some are taking to highlight the absurdity of legislation that allows possession and donation as long as no money changes hands;
-a study showing what many of us have felt ourselves: that the day after psilocybin-assisted therapy, depressed patients had a stronger brain response to music and saw improvements in the ability to find pleasure in previously empty activities;
-a trip report from a psychedelically-naive 50-year old, showing the power and beauty of MDMA-assisted therapy;
-the New Hampshire state Senate continuing to be behind the times and voting down House Bill 639, which would have created a legal recreational cannabis framework for the state;
-a video where people on the street in Oregon were asked how much they thought psilocybin therapy would cost, showing a drastic misalignment between public perception and reality;
and a local TV news feature touring Rose City Laboratories, the first licensed psilocybin testing lab in Oregon.
And in conversation, they talk about some of the lesser-discussed (and often dismissed) tools like CBD, THC patches, and very low-dose edibles; the problem with drug dealers and harm reduction; the power of music in guiding a psychedelic experience (and in living a pleasurable life); and the importance of dosing and listening to your body to know what's right for you.
Links
(bolded links are the discussed articles)
Myjewishlearning.com: Why Cheesecake on Shavuot?
Tales of Transformation: A panel on how psychedelic experiences can evolve into collective transformation and new life callings, featuring Ifetayo Harvey, Juliana Mulligan, Raad Seraj
Hemplucid.com (Use PSYCHEDELICS10 for 10% off)
YouTube: "Moms on Mushrooms": A Growing Trend? (Tracey Tee on Dr. Phil)
Our IG live with Tracey Tee, hosted by Victoria
Entheoventures substack: Balancing the Psychedelic Narrative: A Call for Accuracy and Responsibility from All Sides
Summitdaily.com: Dillon man accused of selling psychedelic 'magic mushrooms' claims he was gifting them under Colorado's new proposition
Psypost.org: Psilocybin therapy for depression appears to have a curious effect on the brain's response to music
Sciencedirect.com: Increased low-frequency brain responses to music after psilocybin therapy for depression
Journal of Psychopharmacology: Changes in music-evoked emotion and ventral striatal functional connectivity after psilocybin therapy for depression
Alexa Jesse (with Host Bodies)- "Hourglass"
Psychedelicscene.com: The Healing Beauty of Ecstasy
Hightimes.com: New Hampshire Senate Votes Down Cannabis Legalization Bill
Wweek.com: How Much Would You Expect to Pay for Psilocybin Mushroom Therapy?
Kgw.com: Touring the first Oregon lab licensed to test the strength of legal psilocybin
Psychedelicscience.org (use code PT15 for 15% off)