In this episode of Vital Psychedelic Conversations, Kyle interviews Dr. Devon Christie: Senior Lead of Psychedelic Programs with Numinus Wellness, clinical instructor, counselor, and Co-Investigator and study therapist for a Canadian MAPS-sponsored trial investigating MDMA-assisted therapy for PTSD.
Christie talks about the importance of biomedical ethics and the unique considerations of psychedelic-assisted therapy: how psychedelics enhance the vulnerability and suggestibility in a well-established power dynamic, and how being aware of your power and biases is of the utmost importance towards not influencing your patient's experience. They discuss just how much that experience is affected by every detail of preparation, and how it's a very thin line between scaring someone off, setting impossible expectations, or even giving away too much of the experience (and with limitless possibilities, is that even possible?).
And she talks about the complications of touch and establishing (and honoring) informed consent; how true mindfulness can cultivate a greater capacity for self-regulation; how to handle situations where the client wants to know if a memory is real or not; the idea of psychedelics as a placebo; and many other complicated therapeutic concepts like harm of neglect, undue influence, making pleasure a virtue, cultivating agency, combating physician burnout, and the expectation effect.
Notable Quotes
"We don't really know, but there may be aspects of psychedelics and their impacts that may make them ultimately like super placebos."
"From my training as a relational somatic therapist, it's actually not about the facts or details of what happened that matter. In fact, we can resolve trauma without even recollection of facts or details because we're working with how it shows up in the body and how it's showing up emotionally. …We can assist that process through working with what's actually emergent in the felt experience and not needing to stay adherent to the narrative around it."
"I think the yardstick on how far we're going with this psychedelic work is that, either personally in our own journeys or even in the folks we're supporting, we're getting to a place where we don't need the psychedelics – where the psychedelics have given us a reference, they've opened up new vistas of possibility, they've helped us to approach our lives differently, such that we are now cultivating the quality of presence and the quality of investigation and curiosity and flexibility and all those things that psychedelics can bring us – in our ordinary lives. …We've got these tools and they can help us learn and they can help us connect, and then hopefully we can come full circle and we can drop the tools and just be able to live meaningful lives that are sustaining for ourselves and for each other."
Links
PT259 – Dr. Devon Christie and Will Siu, MD, DPhil – The Mind-Body Connection, MDMA, and Chronic Pain
Nurturing Resilience: Helping Clients Move Forward from Developmental Trauma – An Integrative Somatic Approach, by Kathy L. Kain and Stephen J. Terrell
Somatic Internal Family Systems Therapy: Awareness, Breath, Resonance, Movement, and Touch in Practice, by Susan McConnell
Healing Moments in Psychotherapy, Edited by Daniel J. Siegel and Marion F. Solomon
PT297 – Laura Mae Northrup, LMFT – Radical Healership in a Profit-Driven World
About Dr. Devon Christie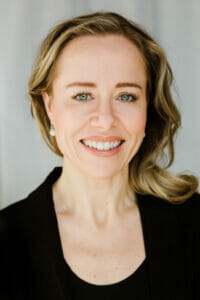 Dr. Devon Christie is a medical doctor and registered counselor with a focused practice in chronic pain and trauma. She is trained to deliver both MDMA-assisted therapy for PTSD and ketamine-assisted psychotherapy, and she serves as Senior Lead of Psychedelic Programs with Numinus Wellness. Devon is also a certified Mindfulness Based Stress Reduction teacher, Functional Medicine practitioner, and clinical instructor with UBC Family Medicine. She is currently Co-Investigator and study therapist for a Canadian MAPS-sponsored trial investigating MDMA-assisted therapy for PTSD, and co-investigator on a pilot study investigating MDMA-assisted therapy for fibromyalgia.
Devon is passionate about educating future psychedelic therapists on trauma-informed, relational somatic skills. She also teaches for the California Institute of Integral Studies (CIIS) Certificate Program in Psychedelic Therapy and Research, the Integrative Psychiatry Institute Certificate Program in Psychedelic Assisted Therapy, and the ONCA Foundation Psychedelic Therapy program.
Socials: Instagram / Facebook
Numinus: Instagram / Facebook / Twitter
---

Support the show!