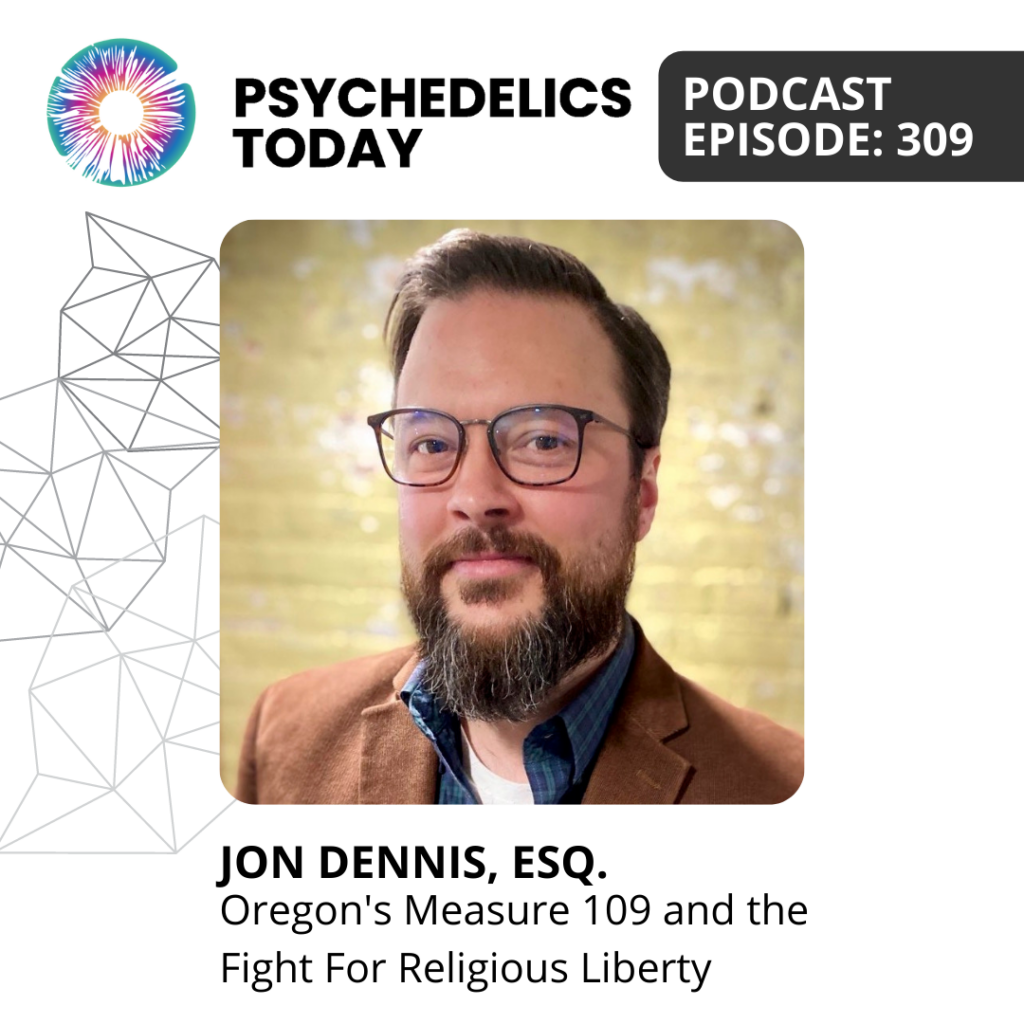 Regulations
PT309 – Jon Dennis, Esq. – Oregon's Measure 109 and the Fight For Religious Liberty
April 12, 2022
In this episode of the podcast, David interviews lawyer, activist, and co-host of our Eyes on Oregon web series, Jon Dennis, Esq.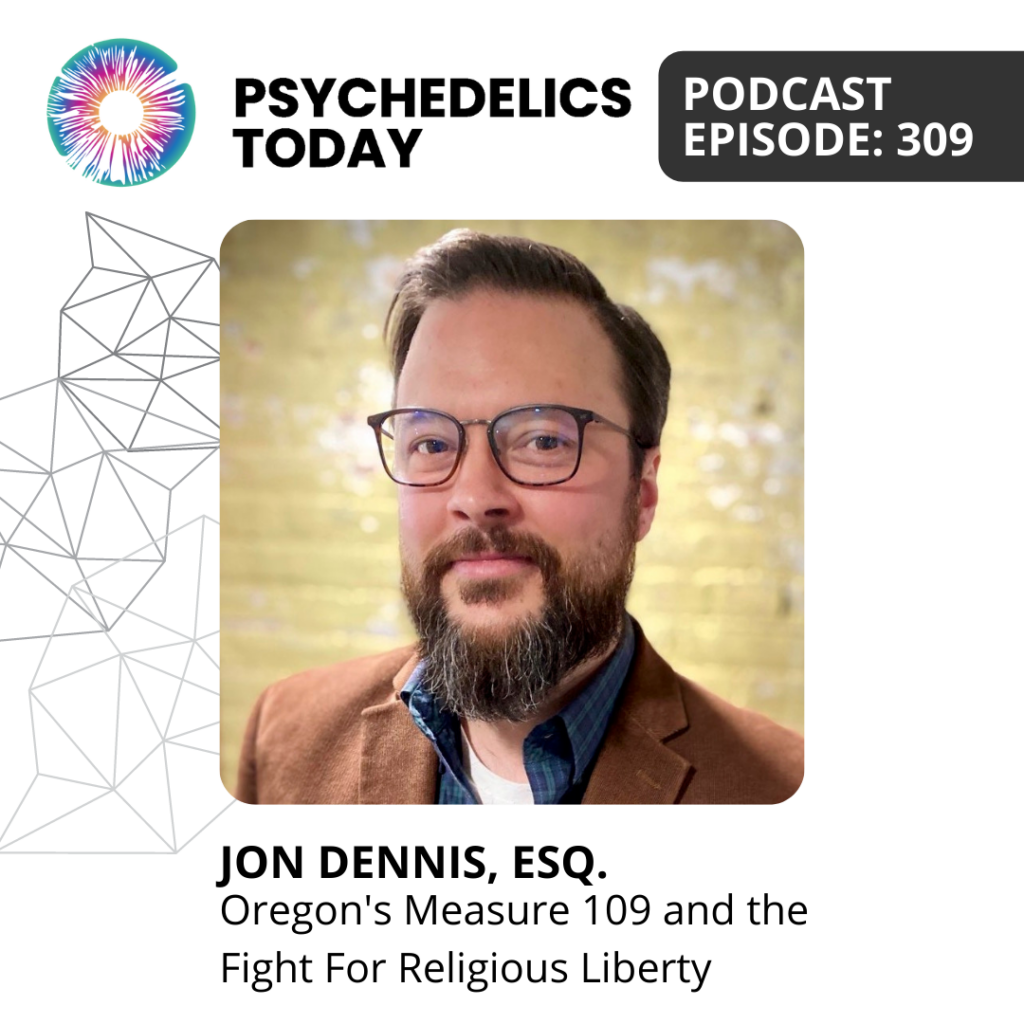 Subscribe
Share
In this episode of the podcast, David interviews lawyer, activist, and co-host of our Eyes on Oregon web series, Jon Dennis, Esq. 
Dennis has been heavily involved in Oregon's Measure 109: creating the Entheogenic Practitioners Council of Oregon, writing a proposed regulatory framework for religious practice under Measure 109, and presenting to the psilocybin board subcommittees all in an effort to protect religious psilocybin use and ensure paywalls don't ruin the unique and historic opportunity Oregon has opened up here.
If you weren't as knowledgeable about Measure 109 as you'd like to be, this podcast serves as a great summary of how we got here and what's next. Dennis discusses how Measure 109 came about; how it's gone through a reputational makeover of sorts (and is more about supervised adult-use than therapy); the role of each subcommittee; Measure 110; who defines what counts as religious practice; the complications of requiring specific psilocybin testing; community support models as harm reduction; how it will become harder and harder to make good legal change in an emerging "psychedelic industrial complex," and how he's using the travails of María Sabina as an inspiration to make sure people aren't left behind as Oregon moves forward. 
If you agree with us that religious use should be protected under Measure 109 (and especially if you live in Oregon), please sign his petition by April 20th, send an email by April 21st, or speak up during the comment periods during one of the upcoming subcommittee meetings on April 18th (5-7 PST) or April 21st (10m-noon PST). The board has 9 hours left of meeting time to make decisions on the recommendations of the subcommittees, so the time is now to make sure this is done right.
Notable Quotes
"I think at this point, we all will agree it's inevitable that psychedelics are about to enter the mainstream, but how they enter the mainstream is important so that they not be delivered directly into the hands of capitalists behind paywalls that keep out millions and millions of people." 
"The depth of human suffering right now is immense. And if we only wait until Compass Pathways and other companies that are pursuing legalized medical applications of psychedelic compounds [complete their research]; not only is that a long time to wait when people are suffering now [and] hospice patients are dying now, [but] to say that they have to wait through even the three or four or five-year expedited 'breakthrough therapy'-designation type of process through the FDA – we don't have time to wait. People are suffering now and we have enough information to not need to be really afraid of psilocybin and other psychedelics."
"I think over 37 million Americans live in poverty and almost 600,000 Oregonians live in poverty. And to think that we're just going to leave those people out because of an elevated safety concern; it's just really hard to kind of square that all together in light of what the actual risks of psilocybin in particular are. …If Oregon decides to create a program – the world's first regulated psychedelic services program – that prioritizes business interests to the detriment of marginalized people, I think the historical record will bear the stain of scandal and corruption on this."
Links
Sign the petition here: Support Entheogenic Practitioners in Oregon

Register for "Religious Liberties & Measure 109: A Call to Action" – An Eyes on Oregon special edition webinar on April 17th at 6pm PST
Psychedelics Today: Religious Practice Under Oregon Measure 109, By Jon Dennis, Esq. (great summary and includes his proposed framework)
Eyes on Oregon, a Psychedelics Today Podcast with Jon Dennis and Joe Moore
DrBronner.com: Natural Medicine Colorado: Combining Regulated and Community Healing Models
Apple podcasts: "Labyrinths: Getting Lost with Amanda Knox" episode 41 – The Fungus Effect Part 4: Sacred Plants (Bia Labate)
CNN.com: Report: Aide says Nixon's war on drugs targeted blacks, hippies
WFTV.com: 'Completely devastating': Family of man who died after hallucinogenic tea ceremony at Orange County church files lawsuit
Medium.com: "Maria Sabina: Mother of the Holy Children," by Mustapha Itani
About Jon Dennis, Esq.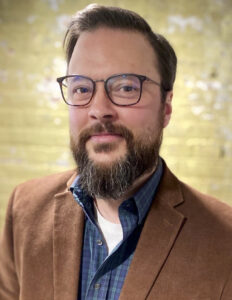 Jon Dennis, Esq. is a lawyer and activist in the psychedelics ecosystem and a consultant at the firm, Psychedelics Now. He is the co-host of "Eyes on Oregon," a podcast by Psychedelics Today exploring the latest developments in Oregon's legal psilocybin landscape. He serves on the Executive Committee of the Oregon State Bar Practice Section on Cannabis and Psychedelics and is a co-chair of its Psychedelics Subcommittee. He is a member of the Psychedelics Bar Association and sits on its Religious Use Committee.
Jon is the chief architect of the proposed regulatory framework for protecting religious and spiritual communities who operate under Oregon's new psilocybin program. He has presented to multiple subcommittees of the Oregon Psilocybin Advisory Board in support of religious and spiritual freedoms and a community model for psychedelic services. He is a founding member of the Entheogenic Practitioners Council of Oregon. Jon has taken the North Star Ethics Pledge and is drawn to this work by the conviction that psychedelics possess the potential to accelerate our individual and collective shifts away from self-destructive paradigms. Prior to joining Psychedelics Go, Jon worked as a civil litigator and managed a nonprofit law office giving free legal assistance to people living in poverty. Jon has a BA in Religious Studies from the University of Kansas and a law degree from Lewis & Clark Law school. He lives in Ontario, Oregon.

Socials: Linkedin
---

Support the show!