In this episode, Joe interviews Licensed Marriage & Family Therapist and certified sex therapist, Courtney Watson.

In just two years' time, Watson grew from "Psychedelics are white people drugs" to opening a ketamine clinic to serve the marginalized communities she comes from. She shares the work she is doing through Access To Doorways; her Oakland-based non-profit whose mission is to bring psychedelic-assisted therapy to queer, trans, non-binary, gender non-conforming, Black, Indigenous, people of color, and two spirit communities.
This discussion is all over the map, from the platform of African traditional religion through the prospect of trauma healing for white supremacists, across BIPOC erasure in psychedelic research studies, and down into the realms of connecting to the spirit of entheogens from our pasts. Watson waxes on Black resilience; Hoodoo; how ALL plants are entheogenic; how conceptualization and talk in the psychedelic space often falls short of real action; ancestral veneration and ways to connect with one's ancestral past; and the concept of "spirit-devoid" synthesized compounds actually being the evolution of those plants' spirits.

She breaks down thoughtful considerations for queer and trans people in the psychedelic space, pointing out that while our society places too much emphasis on gender and sex, the acknowledgement of gender diversity and tearing down of the myths of hetero- and cisnormativity is hugely important. She believes that true access to these medicines can lead to true healing, which leads to love, justice, and actual equality. You can support Access to Doorways by making a donation here.
Notable Quotes
"Our people will talk to us. They will guide us. They will direct us. Especially for folks that don't have ancestral practices in their day to day and haven't had for generations; ancestors are starving for attention. They're like, 'Thank God you see us!' Give them some light, give them some love, give them some attention, and they will open roads for you in all sorts of ways that you never knew were possible."
"I think we also place way too much emphasis on gender and sex in this culture in this way that ends up stigmatizing the fact that there is gender diversity. …Holding all of this knowledge that heteronormativity is a thing and cisnormativity is a thing, and that these are not the default when we're working with trans folks and folks that do not identify as heterosexual – that is really important."

"Healing could actually help shift what's happening. It can help turn things in the ways that they need to be turned; in the ways towards love, towards justice, towards actual equality. It's only when we are healed that we can actually do that; 1) because we have enough energy to be able to do that, but also because we have enough vision and foresight to be able to do that. The clarity of what it means to actually love only comes when we are healed."
"There's a lot of conversations, there's a lot of talk, there's a lot of conceptualizations, there's a lot of dreams. But there's not a lot of action. …So many people get stuck in the conceptualizing piece of it and the philosophizing piece of it that action gets missed. Access to Doorways is action. With $7000, we have given 4 subsidies. I know people that have raised ten times more than us and have not done that much. It is completely about doing what we say that we're doing. It is completely about action towards healing."
Links
Access2doorways.com: The Access Key Pledge
Psychedelics Today: PT278 – Ayize Jama-Everett, Courtney Watson, Leticia Brown, and Kufikiri Imara – A Table of Our Own
California Institute of Integral Studies: Psychedelic-Assisted Therapies and Research Certificate Program
Wikipedia.org: Hoodoo (spirituality)
Wikipedia.org: Anthropocentrism
Journal of Psychedelic Studies: "Diversity, Equity, and Access in Psychedelic Medicine," by Monnica Williams & Bia Labate
About Courtney Watson, LMFT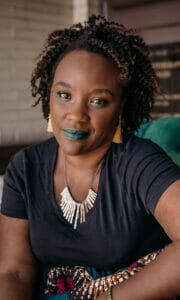 Courtney Watson is a Licensed Marriage and Family Therapist and AASECT Certified Sex therapist. She is the owner of Doorway Therapeutic Services, a group therapy practice in Oakland, CA focused on addressing the mental health needs of Black, Indigenous & People of Color, Queer folks, Trans, Gender Non-conforming, Non binary and Two Spirit individuals. Courtney has followed the direction of her ancestors to incorporate psychedelic-assisted therapy into her offerings for folks with multiple marginalized identities and stresses the importance of BIPOC and Queer providers offering these services. Courtney has received training from the Center for Psychedelic Therapies and Research at CIIS, MAPS, and Polaris Insight Center to provide psychedelic-assisted therapy with a variety of medicines. She is deeply interested in the impact of psychedelic medicines on folks with marginalized identities as well as how they can assist with the decolonization process for folks of the global majority. She believes this field is not yet ready to address the unique needs of Communities of Color and is prepared and enthusiastic about bridging the gap. She is currently blazing the trail as one of the only clinics of predominantly QTBIPOC providers offering ketamine -assisted therapy in 2021. She has founded a non-profit, Access to Doorways, to raise funds to subsidize the cost of ketamine/psychedelic-assisted therapy for QTBIPOC clients (now accepting donations!!!). When not in the office seeing clients or in meetings for the businesses she leads, she's watching Nickelodeon with her kids, kinda working on her dissertation and more than likely taking a nap!
Socials:
Instagram: Access to Doorways / Doorway Therapeutics
---

Support the show!