In this episode, Kyle interviews licensed professional counselor specializing in somatics and ketamine-assisted psychotherapy, regular contributor to Navigating Psychedelics, and vinyl DJ (who DJed our 5th-anniversary party), Pierre Bouchard. 
Bouchard digs into the art of somatics and the importance of adding it as another tool to the data set of one's healing practice, and discusses how many people don't yet understand how to interpret (or even define) these sensations, how learning to tune in to bodily sensations can often reveal what needs to be worked on before other therapeutic modalities can, and how physical touch and working with the body create an ethical dilemma. And he breaks down the polyvagal theory and how different types of trauma affect the nervous system and its go-to "fight, flight, or freeze" actions.
They also talk about the top-down and bottom-up approach, Holotropic Breathwork and Stan Grof, dissociation and ketamine, what they'd like to see in the future of therapy, and more. This is a conversation between two counselors, so if you're behind on therapeutic modalities and concepts, this episode is for you.
Notable Quotes
"When we're talking about learning to tune into body sensations, we're really helping somebody develop a new language, a new way of understanding themselves. …It's not that things weren't happening and now they are, it's that they're learning how to tune into it." 
"Before our conscious mind catches something, often, our body catches it. And we might have a belief about ourselves that then, when we actually tune into body sensations, we find out there's actually something different going on here. To me, that's the deep beauty of this; is that you can be intellectually cut off from an experience or belief or just something about yourself, but the body doesn't lie. The body has no stake in negotiating. The body's just interested in the truth." 
"There's a way in which so much of our wounding is about what did or didn't happen and getting a chance to have some reparative experience around that. Finding out that you're God and that everyone else is God; it might help that journey, but it's not going to heal that knot in your nervous system."

"We're learning to be more interested in our own experience. I think this is something that psychedelics are so fantastic at. We start to have a much greater range of who we are and what's possible. I can be screaming and raging, I can be crying, I can be in ecstatic bliss. …The psychedelic life, in this way, is about continuing to learn to be a more rich meal."

Links
Instagram: @pierre.bouchard.lpc
Psychedelicstoday.com: Selecting Music for Psychedelic Therapy
The Polyvagal Theory in Therapy: Engaging the Rhythm of Regulation, by Deb Dana
The Body Remembers: The Psychophysiology of Trauma and Trauma Treatment, by Babette Rothschild
"Applying the Brakes," By Babette Rothschild
---
About Pierre Bouchard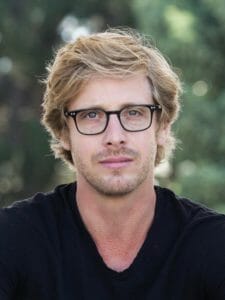 Pierre Bouchard is a Licensed Professional Counselor with a private practice in Boulder and Denver, CO. He specializes in blending somatics, embodiment, attachment theory, and trauma therapy with ketamine-assisted psychotherapy. A graduate of Naropa University (in Contemplative Psychotherapy), he has trained in several somatic psychotherapy modalities, most recently the Hakomi Method under Melissa Grace, and currently, in Ido Portal's movement system at Boulder Movement Collective. He has maintained a meditation practice for 19 years, is working on opening a ketamine clinic, and in his spare time, works as a vinyl DJ.

Support the show