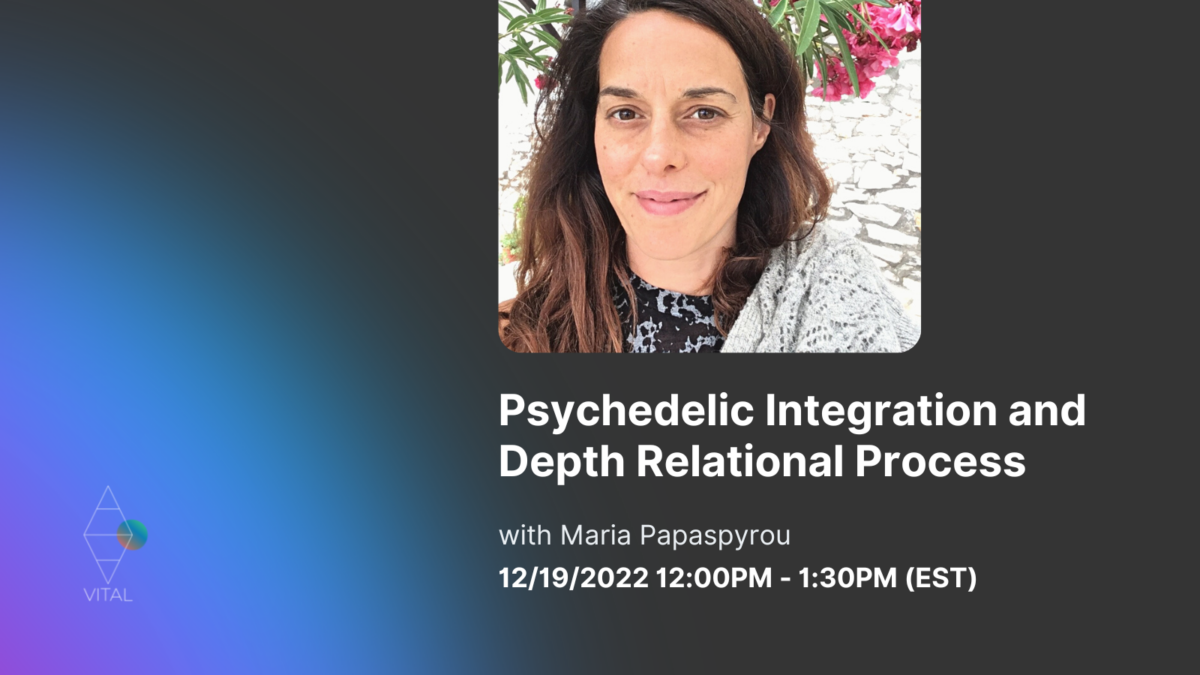 December 19, 2022
Webinar: Psychedelic Integration and Depth Relational Process
Date and time
December 19th, 2022
12:00PM - 1:30PM (EST)
$10
About This Event
Integration as a word is being applied to a wide range of practices and means different things in different settings. How can we understand the process of integration from a Depth Relational Process perspective which highlights depth perspectives – like the Jungian or attachment lens -, relational unfolding and depth of processing? And how can we match integration set with integration setting from a theoretically pluralistic perspective to meet the needs of people post experience at an appropriate and adequate level?

Depth Relational Process is a model we have co-developed with Dr. Tim Read in support of working with the deep psyche as well as expanded states. In this talk we will consider the main elements of working in this way alongside some clinical material to bring some of these ideas into the realm of practice.

Maria Papaspyrou is a senior accredited psychotherapist, working in private practice in Brighton, UK. Her core trainings have been in integrative relational psychotherapy, systemic family constellations and supervision. She has had a long-term interest in the healing potential of expanded states and her clinical practice focuses on psychedelic integration and working as a supervisor for individuals and organisations in this field.

She has co-edited "Psychedelic Mysteries of the Feminine" with Chiara Baldini and David Luke and "Psychedelics & Psychotherapy: The Healing Potential of Expanded States" with Dr Tim Read. With Tim they have co-founded and co-direct the Institute of Psychedelic Therapy (IPT) where they have co- developed and teach a 2-year professional training on Psychedelic Assisted Therapy through their model, Depth Relational Process.

You can find out more about her work at towardswholeness.co.uk.