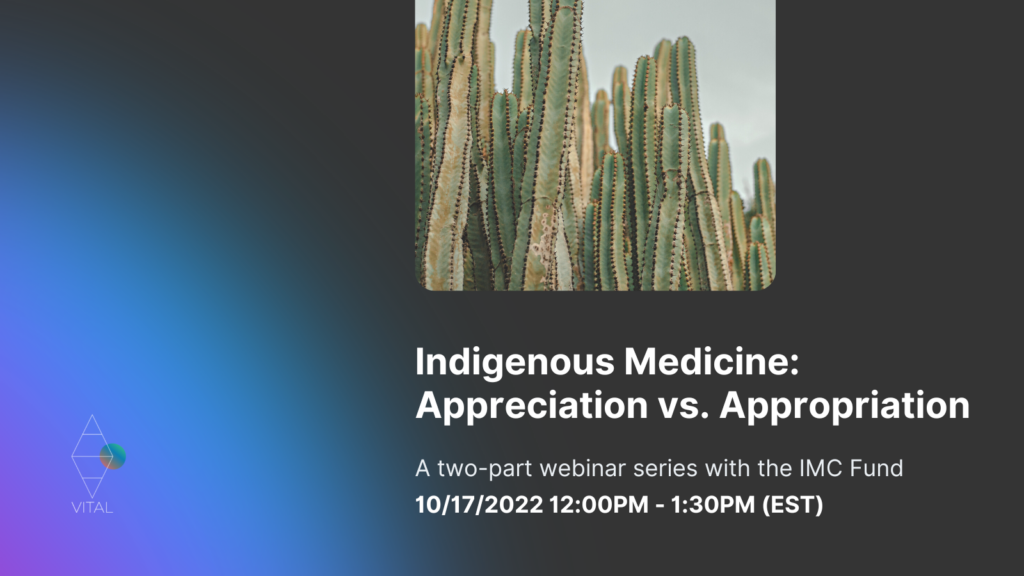 October 17, 2022
Indigenous Medicine: Appreciation vs. Appropriation
Date and time
Oct 17, 2022 12:00 PM EST
About This Event
Join us for "Appreciation vs. Appropriation," part one of a two-part webinar series in collaboration with the Indigenous Medicine Conservation Fund (IMC Fund). The IMC Fund was co-created for the sovereign protection and regeneration of the medicines, ecologies & traditional knowledge Indigenous communities have honored for thousands of years.
In this webinar series, we will be discussing the importance of respecting traditional Indigenous cultures and practices. As the psychedelic renaissance forges on, it is important to emphasize conserving and supporting traditional knowledge and we are urging having these conversations. While the IMC Fund focuses on biocultures that have ancestral practices with plants such as ayahuasca, iboga and peyote, we know that all indigenous cultures have rich traditions that deserve respect, and that land and territory issues at the community level are linked to mental health and climate change outcomes globally.
How do we ensure the original holders of these sacred medicines are respected and uplifted in this search for our collective healing? Together we can hold a respectful and constructive dialogue and exchange that isn't extractive, and instead appreciates rather than appropriates an exchange between equals.
This webinar is FREE to attend, however, we highly recommend making a contribution via Grow Medicine (https://growmedicine.com/), a project and donation platform of the IMC Fund.
Speakers:
Sutton King, MPH – Co Director of the Urban Indigenous Collective
Anahí Ochoa – Director of the Intercultural Yaqui Medicine Clinic
Mona Polacca – Leader in the Native American revitalization movement
Miriam Volat, MS – Co-Director of the Riverstyx Foundation