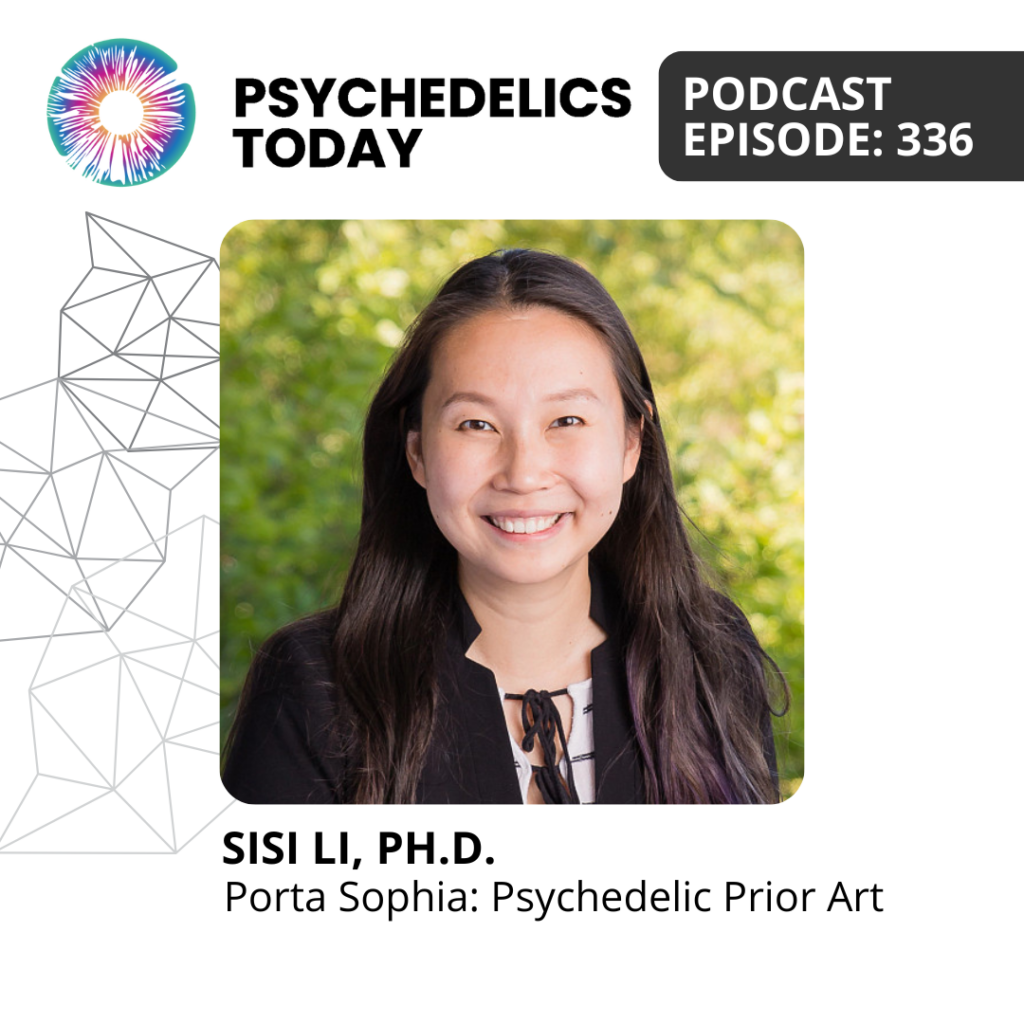 PT336 – Sisi Li, Ph.D. – Porta Sophia: Psychedelic Prior Art
July 12, 2022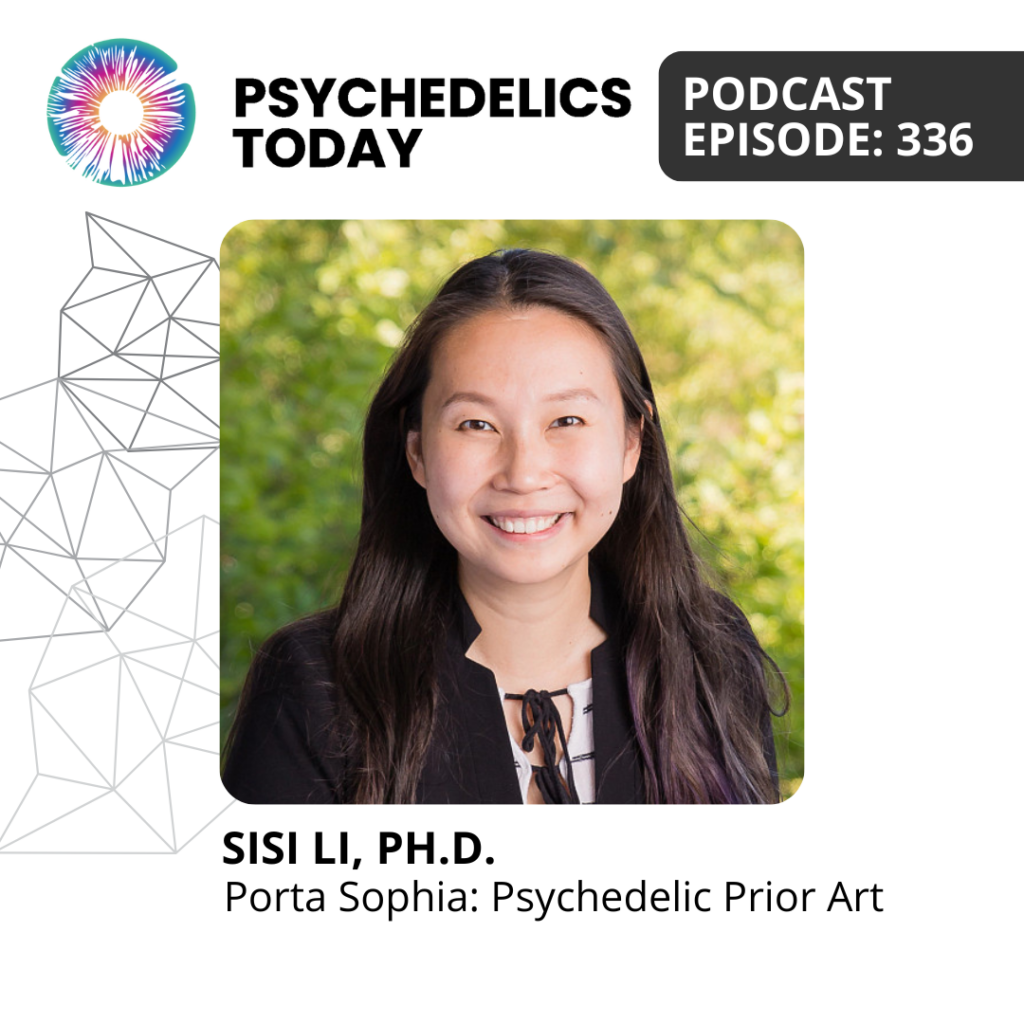 Subscribe
Share
In this episode, recorded at the From Research to Reality Conference in Toronto, David interviews Sisi Li, Ph.D.: Data Architect and lead of the data archival team for Porta Sophia.
Porta Sophia, which means "doorway to wisdom," is a non-profit online library collecting relevant prior art in the world of psychedelics for patent reviewers and innovators around the world – the intention being to protect the public domain, stimulate innovation, and support good patents, all in support of greater accessibility to psychedelics and psychedelic-assisted therapy at a mass scale. 
Li discusses what she does at Porta Sophia; what determines if something counts as prior art or not; the difficulties in collecting pre-prohibition, underground, and Indigenous community data; patent families, what can be patented, and the complexities of international patents; and COMPASS Pathways and their ongoing patent battle.
She also dives into epigenetics and intergenerational trauma; the differences between brain, mind, and consciousness; and what exactly a polymorph is. And lastly, she talks about her Women in Biohealth (WiB) mentoring program and how much women in the biohealth industry (and really, anyone) can benefit from the mentor-mentee relationship.
Notable Quotes
"It is, I would say, a hopeful thing that if the environment can change our gene expression for the worse, …it could also change it for the better. …There [have] been studies in terms of intergenerational trauma where these epigenetic markers are heritable; so if your parents or your parent's parents experienced really intense stress, that could change their epigenetics and that could actually affect the offspring's. And that's kind of a wild thing to think about."
"Porta Sophia is not directly involved in the …legalization//decriminalization efforts in Oregon, but I think we do share common interests in terms of our mission. …And I think what Porta Sophia is doing by supporting the patents and making these compounds accessible, especially in terms of the use aspect, could be beneficial to the Oregon efforts."
"I have personally benefited from mentoring throughout my career and my life, and I saw with the pandemic and people feeling more isolated and networking being harder, that it really could be a good opportunity for more connection among the women in the community – especially in this space."
Links
Psychedelics Today: PT334 – Prof. David Nutt – The Human Brain, Addiction, and Telling the Truth About Drugs
WIPO.int: PCT – The International Patent System
Compasspathways.com: COMPASS Pathways granted two US patents
Maps.org: MAPS' Phase 3 Trial of MDMA-Assisted Therapy for PTSD Achieves Successful Results for Patients with Severe, Chronic PTSD
Tihkal: A Continuation, by Alexander & Ann Shulgin
I-mak.org: Overpatented, Overpriced: How Excessive Pharmaceutical Patenting is Extending Monopolies and Driving up Drug Prices
About Sisi Li, Ph.D.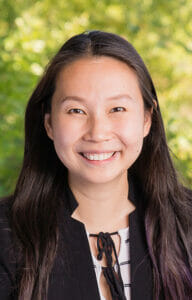 Sisi Li, Ph.D. is a Data Architect and leads the data archival team at Porta Sophia, a non-profit online library for innovators and patent reviewers to find relevant prior art in the field of psychedelics. Sisi immigrated to the United States from China when she was 10 years old. She received a B.S. in molecular and cellular biology and psychology from the University of Illinois Urbana-Champaign, then received her Ph.D. in Neuroscience from the University of Wisconsin – Madison, where her research focused on better understanding the epigenetic and molecular mechanisms underlying depression and anxiety disorders. She previously worked for three years as a Research Scientist at Gregor Diagnostics, a prostate cancer diagnostics startup. She co-founded the BioForward Woman in Biohealth (WiB) mentoring program and is on the WiB steering committee. She is passionate about creating more connections among women in the biohealth community.

Socials: Twitter (Porta Sophia) / Linkedin
---
​Rate, review, and subscribe on Apple Podcasts, Spotify, Stitcher, Google Podcasts, or anywhere you like to listen.

Support the show!