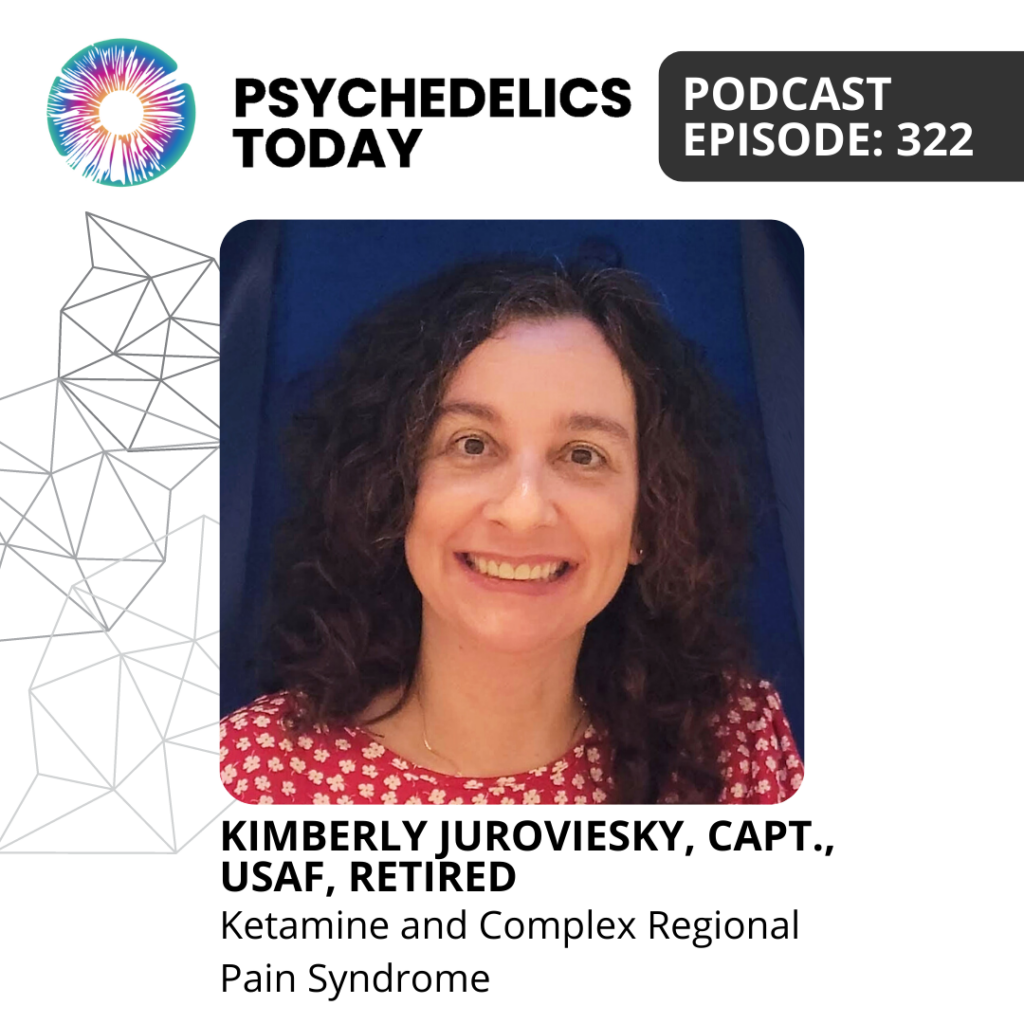 In this episode of the podcast, Joe interviews retired Nurse Practitioner, Midwife, and Air Force Captain, Kimberly Juroviesky.
Juroviesky was forced to retire from her career and aspirations in the Air Force after she fell during a training exercise and again on ice months later, eventually realizing she had developed Complex Regional Pain Syndrome; a little understood condition where essentially, nerves continue to tell one's brain that a healed injury should still hurt. When she tried ketamine and it cut her pain in half, she wondered, "Why aren't more people doing this?" and created the Ketamine Task Force to fight to get insurance to pay for ketamine (and eventually, other legalized psychedelics).
She discusses Complex Regional Pain Syndrome and her path to ketamine; the redefining of "treatment-resistant"; the lack of knowledge from so many physicians about drug interactions and proper dosing; the mental health benefits of primal activities like swimming or dancing; the utility, timing, and efficacy of each ketamine method (for others and what's worked best for her); the arduous and frustrating process of applying for a new CPT code with the AMA; how chronic pain and suicidality are intertwined; and the relationship between the timing of ketamine sessions, improvements, and problems returning.
Juroviesky is currently practicing Nue Life's protocol, with at-home ketamine and participating in group integration sessions. She believes the future of ketamine will be similar to how many feel psychedelics like ayahuasca, psilocybin, or LSD should be used: using smaller (and lighter) doses as maintenance in between larger experiences (in this case, in-office IV or ketamine infusions) – with, of course, lots of integration.
Notable Quotes
"The biggest hurdle has been access for me [and] access for everyone, because unfortunately, the majority of insurances refuse to pay for ketamine. It's very depressing, very upsetting that you have all these people who could benefit but they can't get access because they can't afford it, because most of the people who need this medicine, unfortunately, are on disability and no one has the money to pay thousands upon thousands of dollars for this treatment. So I founded an organization called the Ketamine Task Force in order to fight to get insurances to cover ketamine."
"Unfortunately, there's so many clinicians out there who are either not telling their patients things like which drugs prevent ketamine from working at its best, or they're doing doses that are so ridiculously low that their patients get no response and then their patients think they've 'failed ketamine.' And I'm like, 'You haven't even tried ketamine! You think you've failed it, but really, you've only gotten .2 milligrams per kilogram. That's like taking a baby aspirin for a brain tumor.' Education is so important; not just education for patients, [but] education for clinicians."
"There are people who go into their ketamine treatment completely suicidal, with a plan, ready to kill themselves, and they come out and they say, 'I don't want to kill myself anymore.' It's unbelievable, the changes. Even in one session, it can reduce that suicidality. It doesn't [work right away] for everyone. Sometimes it takes three, four, six, ten [sessions], but almost everyone sees some improvement immediately, and that's the amazing thing. …And if it's not ketamine, then, like I said: try psilocybin, try MDMA. But there is hope. Don't give up hope. There's always hope. As long as you're alive, there's always hope for tomorrow."
"We want to be the go-to who's going to help with ground-breaking and changing laws and getting things done. …We want to be the ones to bring it to the world because we just feel like this is so important. We literally are changing the world right now."
Links
Ketamine Task Force Facebook group
Medical Billing CPT Codes: What is CPT?
Psychedelics Today: PT274 – Juan Pablo Cappello – Nue Life: Using Digital Phenotyping to Personalize Healthcare
Imdb.com: Who Killed the Electric Car?
Psychedelics Today: Court Wing – Pain and Its Relationship to the Mind
Rollingstone.com: Naomi Judd Died by Suicide, Ashley Judd Reveals
About Kimberly Juroviesky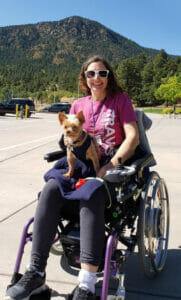 Kimberly Juroviesky is a retired Nurse Practitioner and Nurse Midwife who trained at Columbia University and The University of Medicine and Dentistry of New Jersey. She was injured on active duty while in the USAF and developed Complex Regional Pain Syndrome which unfortunately, forced her to retire from her career early. Kimberly began getting ketamine infusions in 2015 as part of a research study. While they don't make her pain levels disappear, they do bring them down to what she describes as "livable levels." Kimberly has always been driven to help people so she started up a Facebook group to support patients in their ketamine journeys. Kimberly also started a second Facebook group to allow ketamine providers to connect with one another. Kimberly also wrote a book to help patients to know what to expect during their infusions called Ketamine Infusions: A Patient's Guide. She also is the author of Ketamine Journeys: A Journal for Your Ketamine Experiences. Kimberly has found a new passion in being an advocate for the use of ketamine to treat both mental health and pain diagnoses. She advocates for and talks with both patients and providers around the globe on a daily basis.

Socials: Twitter / Linkedin / Instagram
---

Support the show!