In this episode of Vital Psychedelic Conversations, David interviews philosopher, clinical psychologist, Grof-certified Holotropic Breathwork® facilitator, and long-time mentor to Joe and Kyle: Lenny Gibson, Ph.D. 
They talk at length about shamanism, Greek mythology, tribal cultures, and the overlapping themes across them. They discuss how religion became but a shadow of the ancient wisdom these cultures held; the commonalities between physics and poetry; how Holotropic Breathwork is a shamanic technique appropriate to 20th century western culture; and the battle between attainable knowledge and the vice of ignorance.
Gibson discusses the "dying before dying" that took place at Eleusis; how practices like meditation and breathwork can help us in recovering what in Zen is called "original mind;" achieving mystical enlightenment by studying mathematics; and the philosophical parallels between Plato, Kurt Vonnegut, Alfred North Whitehead, and the ancient Greeks.
He also shares how LSD has reshaped shamanism along with a fun story from the first time he met Albert Hofmann. When considering the most vital conversations people should be having, Gibson encourages us to return to the origins; to study the lineages that embodied the mystical wisdom discovered through non-ordinary states – something he believes our modern culture is missing. In the words of Leon Russell, "May the sweet baby Jesus shut your mouth and open your mind!"
Notable Quotes
"Lao Tzu says, 'The secret awaits the vision of eyes unclouded by longing.' The secret is in plain sight. All one has to do is step back and pay attention."
"Conformity and deep understanding don't go together."
"I try to discourage the focus on substances because one of the most important means in Greek culture was poetry. Homer may or may not have been a person identifiable, but his poetry survived as a body. …The Greeks gathered in large festivals and they would recite the poems of Homer, The Iliad, and The Odyssey, and get thousands of people together chanting the same poems – a huge rave!"
"The absolutely most impressive thing about Stan Grof's discovery …that if you empower people in accessing their deepest Self, you will get more than you could get by having a psychoanalyst talk to them about themselves."
Links
Psychedelics Today: Lenny Gibson – A Brief History of Psychedelics in the Western World
Psychedelics Today: Lenny Gibson – Whitehead and Holotropic Breathwork
Whitehead Word Book: A Glossary with Alphabetical Index to Technical Terms in Process and Reality, by John B. Cobb Jr.

Process and Reality, by Alfred North Whitehead
Alan Watts: "The World as Just So (Part 2)"
Realms of the Human Unconscious: Observations from LSD Research, by Stanislav Grof
"The Beach Boys," Disney Girls
About Lenny Gibson, Ph.D.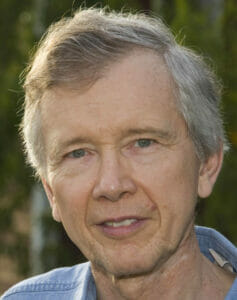 Leonard (Lenny) Gibson, Ph.D., graduated from Williams College and earned doctorates from Claremont Graduate School in philosophy and The University of Texas at Austin in counseling psychology. He has taught at The University of Tulsa, Oklahoma, and Lesley College in Cambridge, Massachusetts. He served a clinical psychology internship at The Veterans Administration Hospital in Boston, Massachusetts, and trained in Holotropic Breathwork with Stanislav Grof. Most recently, he has taught Transpersonal Psychology at Burlington College. Together with his wife Elizabeth, he conducts frequent experiential workshops. He is a founding Board member of the Community Health Centers of the Rutland Region. As a survivor of throat cancer, he has facilitated the Head and Neck Cancer Support Group at Dartmouth-Hitchcock Medical Center. Lenny is President of Dreamshadow Group. He raises vegetables, fruit, and beef cattle on a homestead in Pawlet, Vermont, and plays clarinet in local bands.

---

Support the show!