In this episode of the podcast, Kyle and David interview Andrew Penn: nurse practitioner, Co-chair for Sana Symposium, Associate Clinical Professor at the University of California–San Francisco School of Nursing, and Co-founder of OPENurses; a professional organization for nurses interested in psychedelic research.
Penn discusses how he came into the world of psychedelics and how in his early days, the only way to talk about psychedelics for therapeutic use was in a sidebar to speeches on drug abuse. He talks about reframing that conversation, the progress he's seen, why psychedelics and SSRIs may actually work together, microdosing and the placebo effect, how the placebo effect may play into other aspects of healthcare you might not have thought about, why psychedelics needs more skeptics, and the importance of care in healthcare.
He talks about OPENurses (The Organization of Psychedelic and Entheogenic Nurses), which he co-founded to make sure more nurses are involved (and front-facing) in the psychedelic space. He feels that nurses are more prepared for psychedelic treatment than other professions, but the biggest hurdle they'll face will be learning when to not intervene and just let something play out (something that's very common in psychedelic therapy but not at all in traditional medicine).
And lastly, he talks about how we need to stop romanticizing the idea that you need to have a huge experience with re-lived trauma in order to heal, and that we should have an appreciation for the subtle – that change is gradual, and often it's more about creating a better relationship with the thing we can't change than eliminating it.
Notable Quotes
"Back in those early days, the only way I could talk about psychedelics was, essentially, embedded in a talk about drug abuse. In fact, the very first time I talked about MDMA as a therapeutic agent was in a talk about bath salts."

"I think it's interesting that as a community of people who really are not necessarily rational materialists – you know, we're not necessarily mechanistic in our way of thinking – that people get really mechanistic about microdosing; that it's like, 'Oh, it's this tiny little dose of LSD or whatever that is making this change.' And I'm a little puzzled why people want to essentially take a regular dose of a psychedelic. I mean, how is that any different than taking a regular dose of Fluoxetine or Lexapro or something like that? I just don't see it as being that radical, quite honestly. …LSD is not a naturally-occurring compound. It has to be synthesized. So does Fluoxetine. I mean, maybe psilocybin, but I'm just a little puzzled by the phenomenon."
"I think psychedelics needs more skeptics, honestly. I think we either have to bring the skepticism ourselves, or other people and other forces who are not as convinced as people in the psychedelics community will do it for us. I used to have a therapist years ago who liked to say, 'Do you want to be uncomfortable on your terms or on somebody else's?'. And I think that's a great question that the psychedelics field could ask themselves, because if we don't bring this level of scrutiny and skepticism to our work, then other agencies like the FDA will."

"When you're trained in healthcare, we're often explicitly taught (or implicitly taught) that we need to do something; you know, what's the intervention? What's the thing you're going to do? And often in psychedelics, the thing to do is to hold still. …I think the drive to intervene is well-intended but often, ultimately can be incorrect. What we all need to learn (not just nurses, but just all of us in this profession) is that sometimes the right answer is to watch this unfold. Choosing not to intervene is actually an active process."
Links
The Doors of Perception and Heaven and Hell, by Aldous Huxley
Sagepub: Psychedelic-Assisted Psychotherapy Practices and Human Caring Science: Toward a Care-Informed Model of Treatment
Core Concepts of Jean Watson's Theory of Human Caring/Caring Science
Psychedelics Today: PT231 – Dr. Hassan Tetteh – Human Care Over Health Care
Chacruna.net: How I Joined the Secret SSRI Circles of 1985
Pubmed: Depression Is the Leading Cause of Disability Around the World
American Journal of Nursing: Supporting the Patient on LSD Day (from 1964)
American Journal of Nursing: CE: Psychedelic-Assisted Therapy (their follow-up)
About Andrew Penn, NP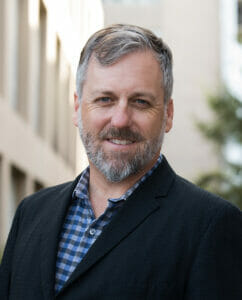 Andrew Penn, NP was trained as an adult nurse practitioner and psychiatric clinical nurse specialist at the University of California, San Francisco. He is board certified as an adult nurse practitioner and psychiatric nurse practitioner by the American Nurses Credentialing Center. He has completed extensive training in Psychedelic-Assisted Psychotherapy at the California Institute for Integral Studies and recently published a book chapter on this modality. A leading voice for nurses in psychedelic therapy, he is a cofounder of OPENurses, a professional organization for nurses interested in psychedelic research and practice and was a study therapist in the MAPS-sponsored Phase 3 study of MDMA-assisted psychotherapy for PTSD and is a Co-I in the Phase 2 Usona sponsored study of psilocybin-facilitated therapy for major depression. Additionally, he is a co-author in a recent article in the American Journal of Nursing on psychedelic assisted therapies, the first in 57 years. He is the Co-chair for Sana Symposium, a leading national CME meeting on psychedelic therapies.
Currently, he serves as an Associate Clinical Professor at the University of California-San Francisco School of Nursing and is an Attending Nurse Practitioner at the San Francisco Veterans Administration. He has expertise in psychopharmacological treatment for adult patients and specializes in the treatment of affective disorders and PTSD. As a steering committee member for Psych Congress, he has been invited to present internationally on improving medication adherence, cannabis pharmacology, psychedelic-assisted psychotherapy, grief psychotherapy, treatment-resistant depression, diagnosis and treatment of bipolar disorder, and the art and science of psychopharmacologic practice. He also keeps regular blogs on all things psychiatric and has been interviewed in Forbes, the Los Angeles Times, and on the BBC World Service.
---

Support the show!