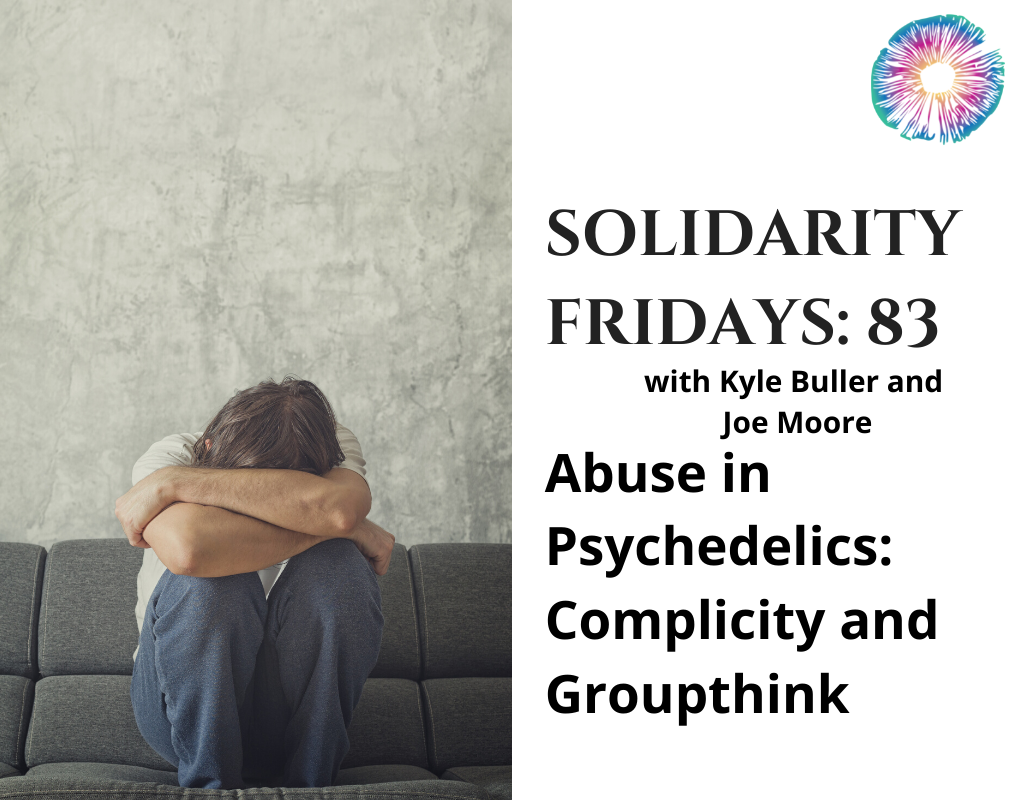 In this week's Solidarity Fridays episode, Joe and Kyle have a serious discussion about abuse in psychedelics, talk about upcoming conferences, and even cover some news. 
They're both attending Wonderland this November 8-9th in Miami (and now both on panels too?), so they start the show by excitedly talking about that (use our affiliate link here to buy tickets to attend or stream at home).
But then things turn more serious, with discussion of the recent accusations of abuse against two prominent figures in this space by friend of the show, Will Hall – something you may have been wondering when we'd address (and which Joe wrote about in yesterday's blog). They talk about the frustrations of not knowing what to do with stories people have confided in them, the complications of sexual energies coming out in psychedelic sessions, the cult-like mentality of protecting abusive facilitators, the politics of becoming a narc, the financial dangers of defamation, and how the best way to tremendously improve safety in psychedelic work would be to end the drug war.
And they cover some news: Bank of America canceling the account of the Scottsdale Research Institute likely due to their research of psychedelics; Prime Minister Boris Johnson considering legalizing psilocybin (which is actually pretty newsworthy); and legalization progress in Luxembourg, Switzerland, and East Hampton, Massachusetts.
Notable Quotes
"Going to bed at night knowing that I'm keeping my mouth quiet; is that complicity?" -Joe

"At a certain point, you will become that elder that you were seeking for guidance, given diligent effort and careful attention to detail and a lot of integrity. Those things can really add up to you becoming the elder that you were seeking in somebody else." -Joe

"By doing this stuff, often, you are breaking the law and you expose yourself to a lot of legal risk. And by people inviting you into their world, they're exposing themselves to tremendous amounts of legal risk. So there has to be this trust, and as soon as the trust is gone, what the fuck is left?" -Joe

"To feel good about yourself years later; the trick is to have integrity now, so you know you handled that situation to the best of your ability." -Joe

"Don't touch people without consent. If you're going to do something where you're touching people, make sure you have a lot of conversations (pre-dosing) about it. Maybe you need to totally re-vision how you're doing underground intake. Maybe it needs to be a lot longer and you need to charge a little bit more to be able to allow for that kind of informed consent.  …Be very careful, please. Very, very careful — over the line with consent. Overboard with consent." -Joe
Links
Buy Wonderland ticket here (use code: PSYCHEDELICSTODAY for 20% off)
Vote for us (once a day!) for the Microdose awards! 
Madinamerica.com: Ending The Silence Around Psychedelic Therapy Abuse
Medium.com/@willhall: Psychedelic Therapy Abuse: My Experience with Aharon Grossbard, Francoise Bourzat… and Their Lawyers
Psychedelics Today: Matthew Remski – Cultic Mechanisms and After Effects of High Demand Group Life
Missoula: Rape and the Justice System in a College Town, by Jon Krakauer
Psychedelics Today: Dr. Daniela Peluso – Guidelines for the Awareness of Sexual Abuse in Ayahuasca Ceremony
Marijuanamoment.net: Bank Of America Cancels Account Of Marijuana And Psychedelics Research Institute Registered With DEA
Bbc.com: Boris Johnson to consider calls to legalise magic mushroom drug psilocybin
Hightimes.com: Luxembourg to Become First EU Country to Legalize Cannabis Cultivation and Consumption
Lenews.ch: Swiss government moves closer to legalising cannabis
Wbur.org: Easthampton is the fourth city in Mass. to vote to decriminalize psychedelics
---

Support the show!