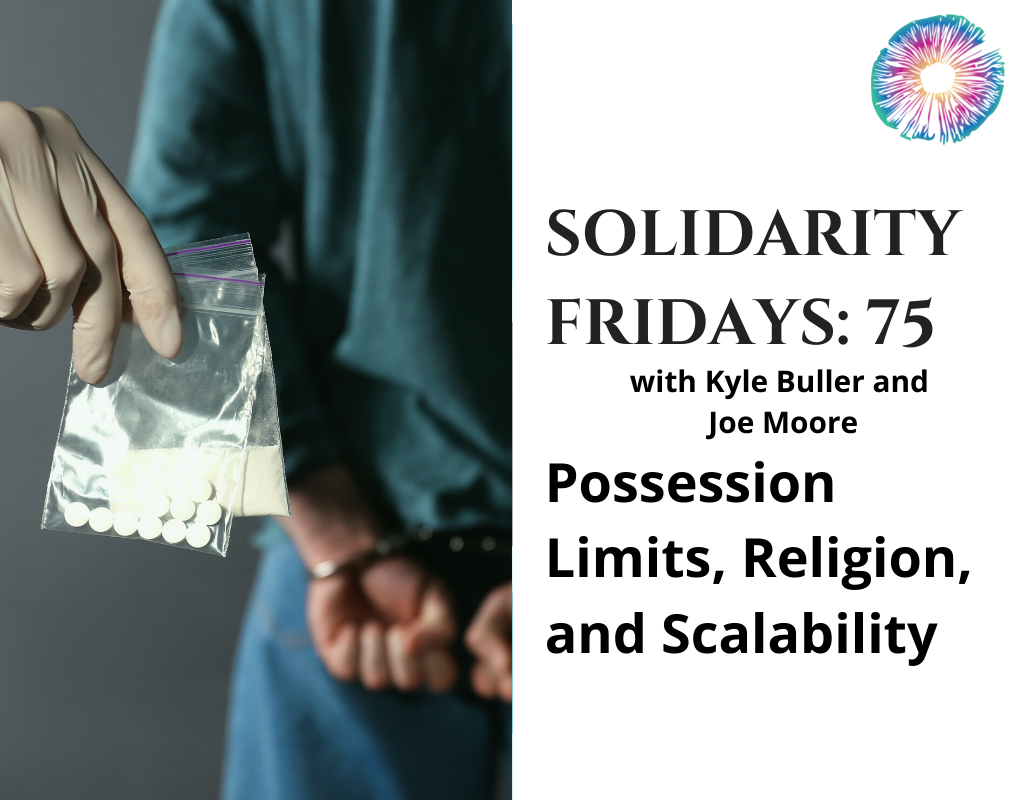 In this episode, Joe and Kyle reflect back, revisit some drama, and talk about the future. 
They first discuss how they started doing these Solidarity Friday episodes at the beginning of lockdowns and the peak of the Black Lives Matter movement, and how they felt that putting out more personal material in a time of upheaval and unprecedented uncertainty was the best contribution they could make. 
Then they discuss the Instagram comments from Decriminalize Nature over the last few weeks and wonder why social justice movements often include such non-productive behavior (and why DN's leaders maybe even encourage it). And they look at possession limits from the "decriminalization with possession limits is an oxymoron" perspective, imagine what a utopian, communal society that grew and provided mushrooms for each other would look like, and analyze why Scott Wiener seems to have willingly paused the movement on SB-519 until next year. 
And they talk about a lot more: the lesser-known 9/20 holiday and our upcoming huge giveaway (stay tuned), the concept of naturalistic fallacy and the problem of determining what is natural, how there are great aspects to religion but people are often turned off by the religious parts, the scalability of drugs and its effect on the environment, Robert Anton Wilson's idea of reality tunnels, the importance of taking a multi-context approach to psychedelics, and Rick Doblin's recent op-ed about how not enough doctors are prepared for the psychedelic wave we're currently being swept up in (which we've been saying since we created our Navigating Psychedelics course to address that very need- thanks for the support, Rick!).

Notable Quotes
"I get DN's point here. I don't want government getting in the way of my religion. But when I say I don't want government getting in the way of me healing, that's a different thing. …It's not always the case that religion heals. I spent a lot of time and have a lot of family in the Catholic church. They don't look healed at all." -Joe
"There's a lot of complexity here, and having simple answers is nice and probably comforting, but I don't see them. I don't see them as abounding. So, we need to come up with: What are our values, why are we doing this stuff, and what do we want to see created? …I'd like to see a post-prohibition future: No more drug war, people are safe, they're educated on how to use all of these things, there's real deal experts with centers globally where you can access all this stuff. I can be legal going to a Phish show, other folks can be legal going to Wu-Tang Clan shows, smoking tons of weed in front of the stage, sharing blunts with Method Man." -Joe
"Legalize being human. People want to alter their consciousness. This is a human trait: Anything from spinning in circles to boozing to smoking cigarettes to whatever- we want to alter our consciousness, and it seems universal." -Joe
"I think about all those people that put stuff out- the ideas. That's the stuff that kept me going through some of those dark periods or this or that, just hearing Terence talk about things, just these folks that have been around for a while just spouting their visions for the future and how psychedelics could play a role in it. Some days where I was just deep in existential dread from what I was going through, those things kept me alive, just hearing these people's visions and ideas of the future of how this could radically shift humanity. I'm like, 'Whoa. Yes. Thank you. Thank you.'" -Kyle
Links
Sfexaminer.com: Wiener's bill to decriminalize psychedelics delayed until 2022
Marijuanamoment.net: House Rejects AOC Amendment To Promote Research Into Psychedelics' Medical Benefits
Rollingstone.com: Inside 9/20, the Holiday for Psychedelic Mushrooms
Sanfrancisco.cbslocal.com: Final Vote On Sen. Wiener's Bill To Decriminalize Psychedelics In California Delayed
Wikipedia.org: Naturalistic fallacy
Psychedelics Today: John B. Cobb Jr. – How Exceptional Experience Can Help Save the World
Psychedelics Today: PT243 – Dr. Fernando Espi Forcen and Dr. Franklin King of MGH's Center for the Neuroscience of Psychedelics
Latimes.com: Op-Ed: Psychedelic treatments are here, but doctors aren't prepared
Have questions about Navigating Psychedelics? Register for a free Q+A here!
---

Support the show!