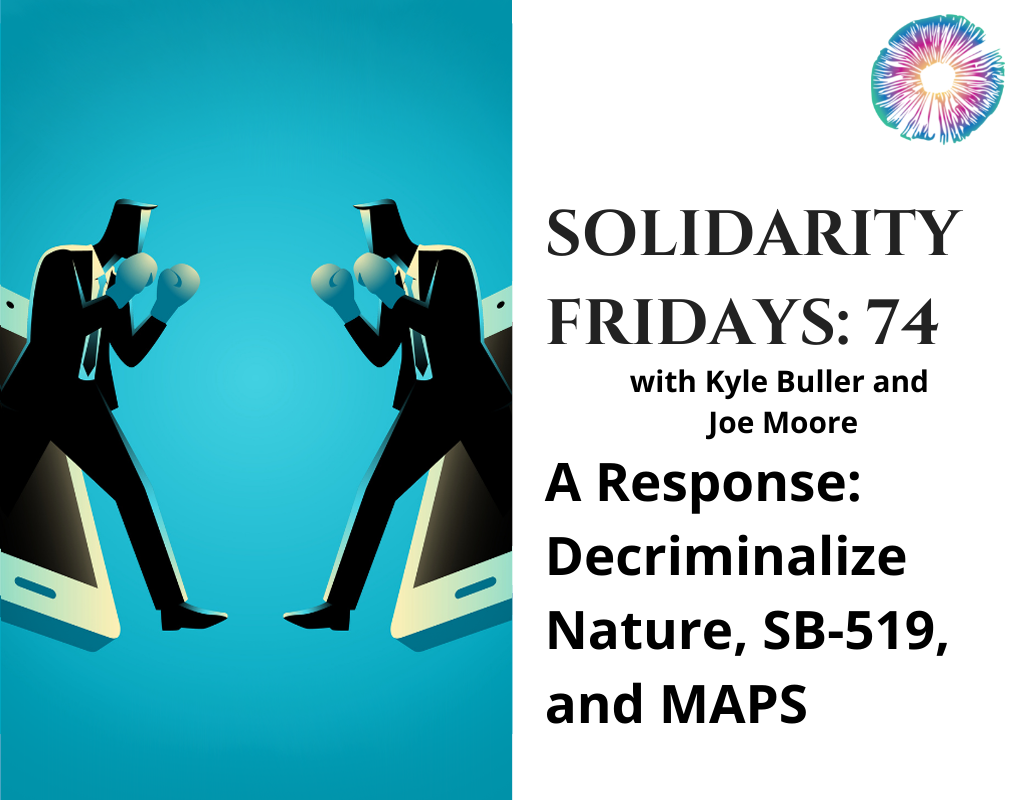 In this week's Solidarity Fridays episode, Joe and Kyle do something a little different.
If you're a regular listener of the podcast, you probably know a few things about the team by now: they try to feature lesser-known voices in the space, they believe there is no one-size-fits-all model for psychedelic-assisted therapy, and they're open to multiple different possible pathways towards access to psychedelics. And while they recognize the dangers of over-medicalization as well as the corruption and massive profits seen so often in commercialization and big pharma, they also recognize that many lives have been saved as a result. 
We were all pumped to have someone on the podcast from such a well-known and pioneering group as MAPS to break down SB-519 from an insider's perspective and offer explanations for actions that may have seemed suspect (PTSF73, with Ismail L. Ali from MAPS). We thought it was pretty in line with what listeners have come to expect from the podcast. So imagine our surprise when what we thought was a harmless Instagram post promoting the episode was met with a bombardment of comments from Decriminalize Nature and their supporters, most of which were saying that we weren't giving a voice to DN, with some even saying we were somehow in cahoots with MAPS and being paid to push a false narrative. 
Rather than reply to every comment or feel bullied into immediately inviting representatives from Decriminalize Nature onto the podcast, Joe and Kyle decided to instead respond here in this episode. Enjoy!
Notable Quotes
"It seems to me to be an immature understanding of how politics in America works. It seems like these would be the people taking pitchforks and guns to the statehouse to do a revolution, but instead, they're doing Instagram comments. And I get it- it's probably not a good idea to do violence. But this is the vibe I'm getting: They're really, really angry, they want total revolution. Do you get total revolution through Instagram activism? Probably not." -Joe
"I'm more philosophically aligned with Carl Hart, which is calling out Decriminalize Nature as doing mental gymnastics to support their drugs of choice. And I want to see Black men and women out of prison. I want to see people of color no longer victims of the drug war.  …I also see that we want people to be healed. Psychedelics can help people improve their lives and get better relationships (certainly has helped me). So what's the way to do that? Is it total anarchy? Is it like, 'Lets usurp the medical system'? It seems like DN wants to play outside the scope of the medical infrastructure. Fine, let them do that. It's just, I'm on a different track." -Joe

"I want DN to win. I want DN to be successful. I also want DN (and I've said this many times on the show) to figure out how to have better relationships in this space. Because I hear that's one of their fundamental issues, is they don't have any great relationships in this space, and the excuse is that everybody's in a cabal and out to get them. Perhaps you're not compromising. Perhaps you're not able to have reasonable conversations." -Joe
"In a field that is sometimes boundaryless and ego-dissolving, it's really important to have boundaries." -Kyle
Links
Psychedelics Today: PTSF72 – Breaking Down SB-519, with MAPS' Ismail L. Ali
Assembly Health Committee meeting: Tuesday, 7/13/21 (the hearing on SB-519 starts at 1:21:45. Izzy's testimony starts at 1:30:10)
Psychedelics Today: Veronica Hernandez and Larry Norris – Decriminalizing Nature: A Win for Plant Medicines
Truffle.report: Advocacy Group Asks to Delay California Psychedelics Bill Until 2022 (a short summation of DN's stance on SB-519)
Decriminalize Nature's facebook post (that the above article references)
Psychedelics Today: PT231 – Dr. Hassan Tetteh – Human Care Over Health Care
Diasporapsychedelicsociety.org
---

Support the show!