In this episode, released on Stan Grof's 90th birthday, Joe interviews Kristina Soriano & Jonas Di Gregorio of the Psychedelic Literacy Fund, a donor-advised fund focused on educating the world about psychedelic therapies by financing the translation of classic books into different languages. Their first big project has been to publish new translations of Grof's classic, The Way of the Psychonaut. 
Kristina and Jonas first told us about their project back in December, and they're back to update us on their fundraising progress: new translations, future projects, a new volunteer, and a generous grant through HalfmyDAF. They talk about experiences with ayahuasca and virtual reality, audiobooks and the joy of reading, how the translation process works, and the birth perinatal matrices. 
And they talk a lot about Stan Grof, with Joe discussing how much his work has meant to him and the formation of Psychedelics Today, which was created largely to promote Grof's work and the power of Holotropic Breathwork. If you want to donate to the furthering of Grof's knowledge in honor of his birthday, please do so at Psychedelicliteracy.org.

Notable Quotes
"It's so fortunate that we chose The Way of the Psychonaut as our first book because Stan is turning 90 years old this year and it's a wonderful way to celebrate his dedication to this field of psychedelic psychotherapy. He's devoted 60 years of his life to this, to pioneering this way, and it's really an homage to his fierce courage and curiosity in bringing this message forward. And the receptivity that we've had from our project just really shows how much people have been affected and positively influenced by his work." -Kristina
"When we speak about books about psychedelics, especially in countries where there is a different understanding of what they are, etc., [a] publisher can be very much reluctant and hesitant in translating them. And so that's why, especially now, where clinical trials are showing these incredible results in the United States and a few more countries, it makes sense for philanthropy to think strategically [about] how these books can catalyze clinical trials and research in other countries." -Jonas
"Stan is so positive. It's so beautiful how he accepts this is the 9th decade of his life and [he's taking] all of the pieces and putting them all in a row, so that way, the passing is smooth. And it's such a beautiful acceptance of this reality. But also, we want to assure the people of this generation that it's being passed on to a generation that respects and honors the pioneering efforts that they've done, and we'll make good on that promise so that we will learn from the past and bring it forward in a way that's holistic and healing for everyone. That's my hope." -Kristina
Links
Psychedelics Today: PTSF 39 (with Jonas and Kristina of the Psychedelic Literacy Fund)
The Secret Chief Revealed, by Myron J. Stolaroff
---
About
Kristina Soriano & Jonas Di Gregorio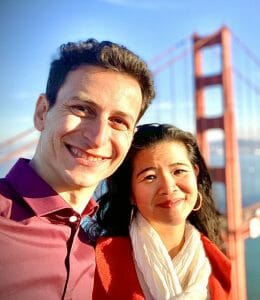 Husband-and-wife team, Jonas Di Gregorio and Kristina Soriano, established the Psychedelic Literacy Fund in May of 2020 as a donor-advised fund managed by RSF Social Finance in San Francisco.  The vision of this fund is to educate the public about psychedelic therapies by financing the translation of books into different languages.
Kristina Soriano holds a Masters's Degree in Healthcare Administration from Trinity University.  A classically trained pianist and multi-instrumentalist, she is the Executive Director for the Women's Visionary Congress.
Jonas Di Gregorio comes from an Italian family of publishers, Il Libraio Delle Stelle.  He holds a Bachelor's Degree in Philosophy from La Sapienza University of Rome.

Support the show