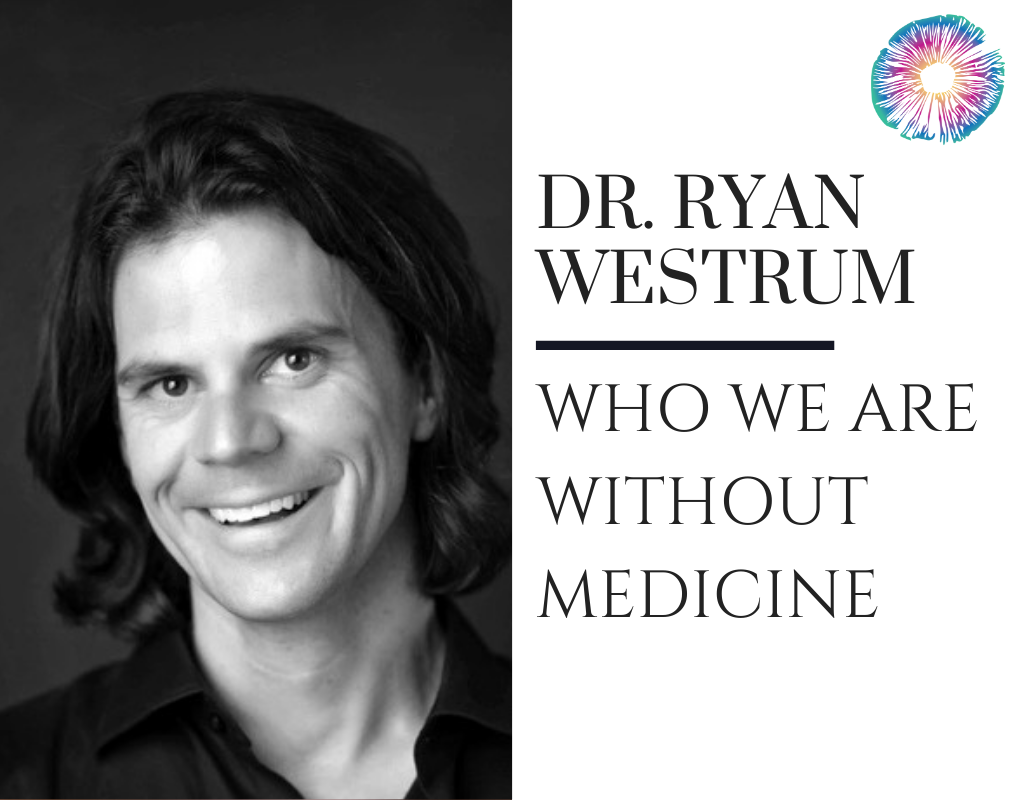 In this episode, Kyle interviews clinical psychologist focusing on sexual trauma, health, and identity, and author of The Psychedelics Integration Handbook, Dr. Ryan Westrum.
Westrums' biggest focus and conversation with clients right now in our age of Covid concerns who we are without medicine- how we fill the liminal states between our sessions or rituals. He talks a lot about the work people can do on their own now: learning to listen to our inner healers, honing and sharpening what we already know, stretching ourselves, listening to the different parts of our intuition (our physical bodies, emotional hearts, and cognitive thinking) and realigning when one is out of sync, and maybe the most important lesson: embracing the idea that self-work doesn't have to be built on trials and tribulations, and often, challenging ourselves to use our hands and practicing something we know we're good at or getting back into a long-forgotten hobby can be just as effective towards growth and feeling better about ourselves. 
He also talks about solitude, how to use technology the right way and not fall into false engagement, what safety means to people in today's climate, the importance of tethering yourself to trustworthy allies, how psychedelics and his work with sexuality converge, and how to embrace the wonder and beauty of what we discover through psychedelics in everyday life.
Notable Quotes
"We have to consciously watch what we're consuming, being prudently aware of this mindful consumption rather than this inappropriate consuming of information when we don't even know why we just touched our phone or why we just engaged in learning more. Without sounding blasphemous (because I love the internet), what's it for? What are we doing it for? …How often are you getting lost in people you don't even know? And how often are you reaching out to people that could actually be there for you? And it leads to psychedelic medicine work- are you leaning on the people that could actually support you?" 
"What is the higher level of intention we're living? If we are going to take the challenge to dive into medicine work by ourselves, we should still be constructing something that's higher level, and to speak volumes of motivating the purpose of why we're doing it. If you're just doing it to do it because you think that's the next thing, I'd ask you: what are you doing in your life away from the medicine?" 
"Some of the most amazing transcendences are personal, and without being disrespectful to the medicine, do we need it to evoke that? Is that a state of being that we can find within ourselves through evocative breathing, through a great song, sexual pleasure with your partner, whatever? There's other avenues. That's what that leads me to, is the plethora of opportunity outside of taking psilocybin or doing an ayahuasca ceremony- [the] plethora of experiential experiences that are very evocative towards healing."

"Without going into hours of conversation, even in couples, people are unaware of what they can share, unaware of entering into what they want to ask for. And that's where the intersection of psychedelics happens, is it gives them this embodied expression of: 'This is genuinely who I am, sexually, emotionally, spiritually,' and it's quite beautiful."
Links
The Psychedelics Integration Handbook, by Ph.D. Ryan Westrum
His last appearance on the podcast
---
About Dr. Ryan Westrum
Dr. Ryan Westrum, PhD, MA. is a nationally recognized psychedelic
integration expert, author of The Psychedelics Integration Handbook, and Doctor of Clinical Transpersonal Psychology. For more than 15 years, his primary focus has been working with individuals and groups facilitating experiential therapy and integrating psychedelic journeys into healing and personal transformation. Ryan speaks on myriad of topics and leads experiential groups, like dreamwork integration therapy and psychedelic integration groups. The founder of http://healingsoulsllc.com and psychedelicintegration.net

Support the show