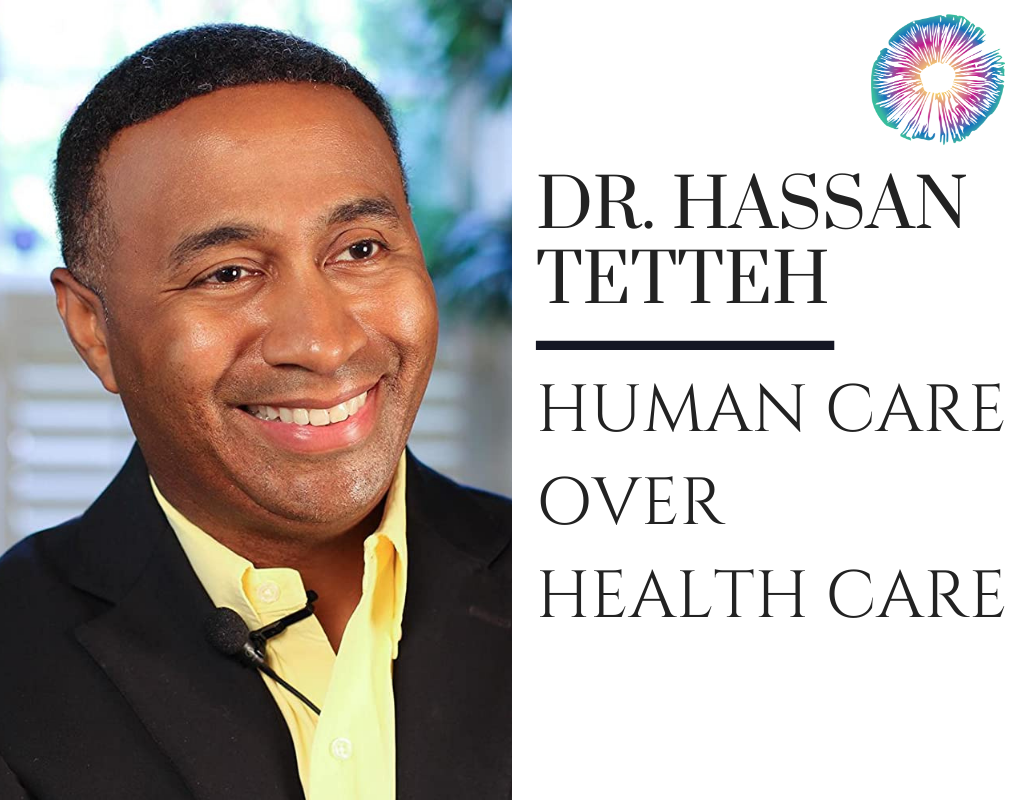 In this episode, Kyle interviews board-certified heart and lung transplant surgeon and author, most recently of The Art of Human Care, Dr. Hassan Tetteh.
Tetteh talks about his book, a "manifesto of sorts" about what human care is in relation to what we traditionally see in standard health care and how the model is rooted in empathy and listening, and was inspired greatly by both his near-death experience with bacterial meningitis (and seeing what it was like to be a helpless patient) and his work with transcendental meditation (which has helped him deal with past trauma and connect him more with the here and now).
He talks about his Human Care "LEARN" framework, an amazing "Death Over Dinner" experience where he and randomly-assigned strangers contemplated 3 simple (but not so simple) questions over dinner, how he sees death as a doctor and as someone who came close to death himself, how to discover what a patient's purpose is, and why he's excited about psychedelics becoming medicines.
Notable Quotes
"I've told this to my colleagues- I said, 'I think everyone in healthcare should have an experience where they feel like they almost died as part of their educational experience,' because sometimes, it takes that empathy to really identify and relate to some of the patients that you're taking care of, but more importantly, I think gives you this real deep sense …of gratitude, and this longing desire to ask yourself, always: 'Why did that happen?'"
"I think death, in its natural form, is absolutely something that's going to happen. It's just the way we're designed. We have a beginning, we have a middle, and we have an end. And I think it's our duty and our responsibility, in my opinion, to make your life as meaningful as possible while you're here, so that in your death, your music continues to play, so to speak. Bob Marley, to me, is never going to die." 
"A lot of patients will come to seek medical attention with a so-called complaint or an issue, and it turns out that if you do take that time (like you said) to listen and empathize and sort of understand what their now is, you'll realize, 'Hey wait a minute, they're not really here for the problem they told me about. They're seeking something else.'"
"If you give someone a minute or two, they'll tell you a lot. But you know what you have to do in that whole time? Don't interrupt them." 
"We don't have the monopoly on the best healthcare, because no, that's been done for ages, well before we came into existence." 
Links
The Art of Human Care, by Hassan A. Tetteh
---
About Dr. Hassan Tetteh
Dr. Hassan A. Tetteh is an Associate Professor of Surgery at the Uniformed Services University of the Health Sciences, adjunct faculty at Howard University College of Medicine, and served as Division Lead for Futures and Innovation at Navy Medicine's Headquarters, Bureau of Medicine and Surgery. He was a Robert Wood Johnson Health Policy Fellow from 2012–13, assigned to the U.S. Congress, Congressional Budget Office, (CBO), and served as Assistant Deputy Commander for Healthcare Operations and Strategic Planning at Walter Reed National Military Medical Center during its integration. Currently, Tetteh is a Thoracic Staff Surgeon for MedStar Health and WRNMMC and most recently served as Command Surgeon for the National Defense University.

Support the show