In this episode, Joe interviews Wade Davis: Ph.D., Professor of Anthropology at the University of British Columbia, explorer, ethnobotanist, star of the recent documentary, "El Sendero de la Anaconda," and author of several books, including  bestseller The Serpent and the Rainbow, which was optioned for a movie, starring Bill Pullman and released by Universal Pictures in 1988. His new book, Magdalena: River of Dreams: A Story of Colombia, comes out on September 15th. 
Wade discusses his history with Richard Evans Schultes, the strange phenomenon behind the growth of ayahuasca compared to other more benign plants, how set and setting can shift expectations across generations, how Indigenous people treat plant medicines in comparison to the western world, the difference between ayahuasca and yagé, Haitian zombies, Voodoo, and the mystery of how Indigenous people have been able to identify plants and learn of their combined effects through the plants speaking to them.
He also speaks about his hatred of cocaine and the damage it has caused Colombia and its people from US drug laws and global consumption leading to violence and deforestation for generations. He's working to decouple cocaine from the coca plant (hopefully through some sort of future coca nutraceutical like a chewing gum or tea), encourage people to stop supporting the illicit cocaine market, and to think of Colombia differently than its unfair reputation encourages. Through his new book, which has been called a love letter to Colombia, he hopes to show people that everything they think they know about Colombia is wrong.
Notable Quotes
"This sort of quest for individual health and healing, for individual enlightenment, individual growth – which, at some level, is completely understandable, but it is also a reflection, in good measure, of our own culture of self; the ongoing center of narcissism, the idea that one's purpose in life is to advance one's own spiritual path or one's own destiny – that is, in my experience, very much not what is going on in the traditional reaches of the northwest Amazon, where the plant (the medicine) both originated, but also, where today, it's taken very much as a collective experience, such that the ritual itself becomes a prayer for the continuity and the wellbeing of the people themselves- where you'd never even think of this in terms of Self or I."
"All of these cultures are fundamentally driven by this idea that they, themselves, are the stewards of the forest- that plants and animals are just people in another dimension of reality, that there's a transactional relationship between human beings and the natural world so that the hunter is both hunted and the hunter; where you don't simply go to get meat, you must seek permission to get that meat; where the shaman is less a healer than a nuclear engineer who periodically goes to the very heart of the reactor to reprogram the world."
"I still am incredibly loyal to that passage in my life, and I find that I'm very proud and happy to say that I wouldn't write the way I write, I wouldn't think the way I think, I wouldn't treat gay people the way I treat gay people, I wouldn't treat women the way I treat women, I wouldn't understand the power and resonance of biology- of nature itself, if I hadn't taken psychedelics."
"Everybody who uses illicit cocaine, I'm sorry to tell you, has the blood of Colombian people [and] the near destruction of a nation on [their] hands."
"Everything you've ever heard about Colombia is wrong, and this dark cliche that has persisted is completely inaccurate, and an injustice to a people whose miseries have largely been caused by our actions- our prohibition of drugs and our propagating of this war on drugs, and of course our consumption of this horrible drug."
Links
Pre-order his new book, Magdalena: River of Dreams (out 9/15)
"El Sendero de la Anaconda" documentary: trailer and info
Recent Rolling Stone article: "The Unraveling of America"
---
About Wade Davis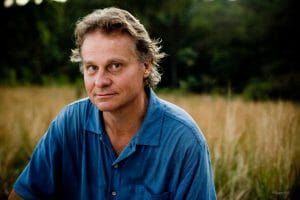 Wade Davis is an Explorer-in-Residence at the National Geographic Society. Named by the NGS as one of the Explorers for the Millennium, he has been described as "a rare combination of scientist, scholar, poet and passionate defender of all of life's diversity." In recent years his work has taken him to East Africa, Borneo, Nepal, Peru, Polynesia, Tibet, Mali, Benin, Togo, New Guinea, Australia, Colombia, Vanuatu, Mongolia and the high Arctic of Nunuvut and Greenland. An ethnographer, writer, photographer, and filmmaker, Davis holds degrees in anthropology and biology and received his Ph.D. in ethnobotany, all from Harvard University. Mostly through the Harvard Botanical Museum, he spent over three years in the Amazon and Andes as a plant explorer, living among fifteen indigenous groups in eight Latin American nations while making some 6000 botanical collections. His work later took him to Haiti to investigate folk preparations implicated in the creation of zombies, an assignment that led to his writing Passage of Darkness (1988) and The Serpent and the Rainbow (1986), an international best seller later released by Universal as a motion picture.

Support the show