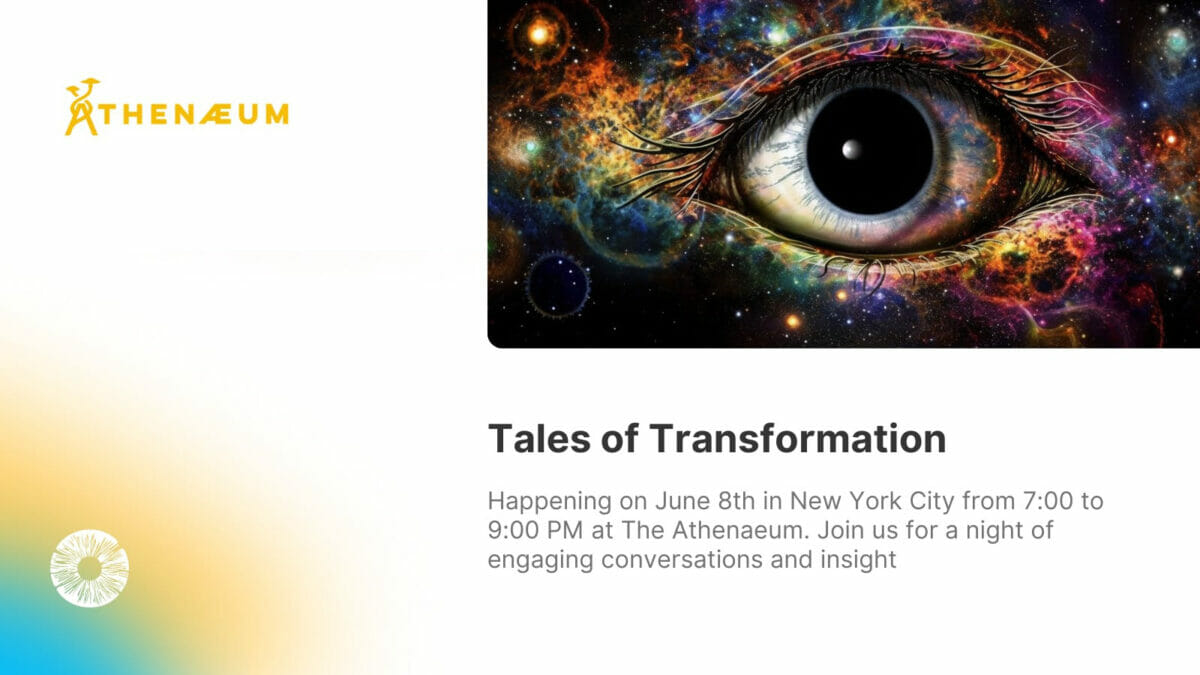 June 8, 2023
Psychedelics Today – Tales of Transformation
Date and time
Thursday, June 8, 7:00 - 9:30pm EST
About This Event
Join us at the Athenaeum on 6/8 before the NYC psychedelic community's mass exodus for Denver and Psychedelic Science 2023.
Psychedelics Today is presenting an engaging panel on how psychedelic experiences can evolve into collective transformation and new life callings. Learn how intentions can sometimes appear after the trip is over, not just before!
This very special event will feature Ifetayo Harvey, Juliana Mulligan, Raad Seraj and will be moderated by David Drapkin of Psychedelics Today.
Your ticket to our upcoming event includes a special serving of delicious ceremonial cacao. Cacao has been used for centuries for its health benefits and mood-enhancing properties. This plant medicine will also help you feel more focused, alert and connected throughout the event. Please arrive a little early to savor this special treat and get ready to learn, grow, and connect with other attendees.
*5 Scholarship Tickets Available, Contact Us for Inquiries*
Please email david@psychedelictoday.com with information about how a scholarship would enable you to attend this event, and how specifically this event would support your thriving in life. Please use 'Psychedelic Assembly Scholarship Application' in the subject line.
Ifetayo Harvey:
Ifetayo Harvey founded the People of Color Psychedelic Collective (POCPC). The POCPC educates and builds community with people of color interested in psychedelics and ending the war on drugs. In 2022, Open Society Foundations named Ifetayo a 2022 Soros Justice Fellow. Ifetayo comes from a family of seven children raised by her mother in Charleston, South Carolina. She has a Bachelor's degree from Smith College in history and African studies, where the college awarded her Outstanding Student Leader of the Year in 2014. She currently lives in New York City.
Juliana Mulligan:
Juliana Mulligan is a formerly opioid dependent person, formerly incarcerated, and has been a working member of the ibogaine treatment community for ten years. In 2011, with the help of Ibogaine treatment, Juliana left opioids behind and set off on a path to transform the way drug users and their treatment is approached. She has a Masters in Social Work from NYU and is the Psychedelic Program Coordinator at the Center for Optimal Living in New York City. She also runs Inner Vision Ibogaine, which supports people in preparation and integration around ibogaine treatment and offers consulting services to those in the field. She has worked in multiple ibogaine clinics, presented at various psychedelic and harm reduction conferences, and is the author of the Guide to Finding a Safe Ibogaine Clinic and co-author of Fireside's Warning Signs When Selecting a Psychedelic Facilitator. She has taught about ibogaine at Charite University in Berlin and Southwestern College in New Mexico and has written for multiple publications about ibogaine, including Double Blind Magazine and Chacruna.
Raad Seraj:
Raad Seraj is a Bangladeshi-Canadian entrepreneur and founder of Mission Club, an angel investor network and education platform supporting startups addressing mental health using psychedelics. He also runs Minority Trip Report, a podcast showcasing underrepresented perspectives in psychedelics and mental health. During the day, he leads growth at Affinity, a San Francisco-based startup providing AI tools for private capital. Raad spent over a decade in climate tech and social impact. He founded one of the world's first technology accelerators for water and created an immersive backpacking program that taught global sustainable fashion entrepreneurs about the fashion supply chain in Bangladesh. He currently lives in Toronto.
David Drapkin:
David Drapkin is a Licensed Clinical Social Worker (LCSW) and Psychotherapist, from Birmingham, England, now living in New Jersey. He is a seasoned mental health and addiction practitioner with over 15 yrs in front-line clinical, supervisory, and managerial positions. David's encounters with non-ordinary states of consciousness go way back and incorporate the spiritual, transformational, and healing realms of experience. From psilocybin journeys following clinical protocols to solo fasting meditation retreats in India, Israel and New Zealand. David is most interested in how psychedelics connect with mystical and esoteric states to engender epistemological rebirth. David has a small private psychotherapy practice, and is the Director of Education & Training at Psychedelics Today.